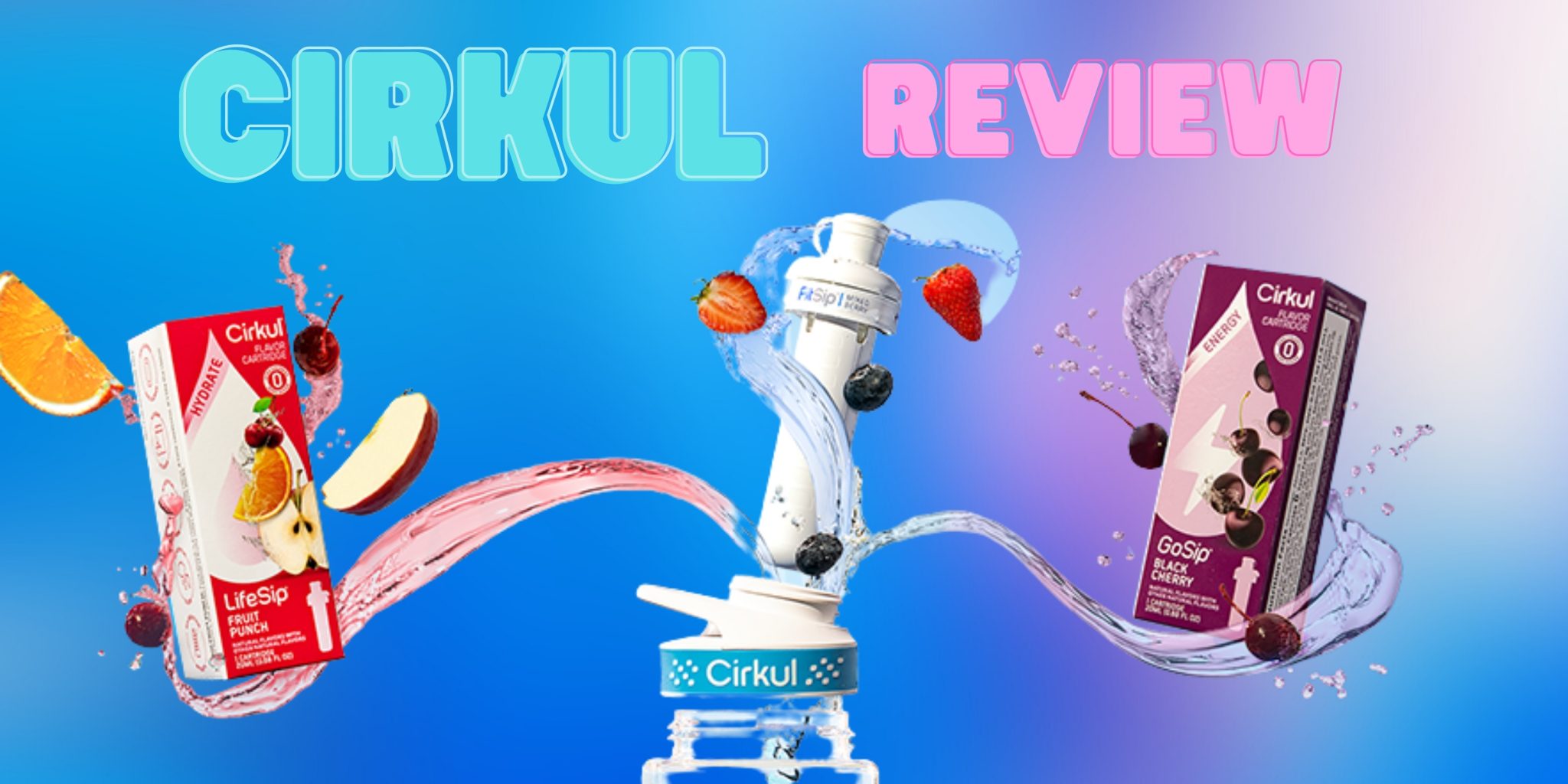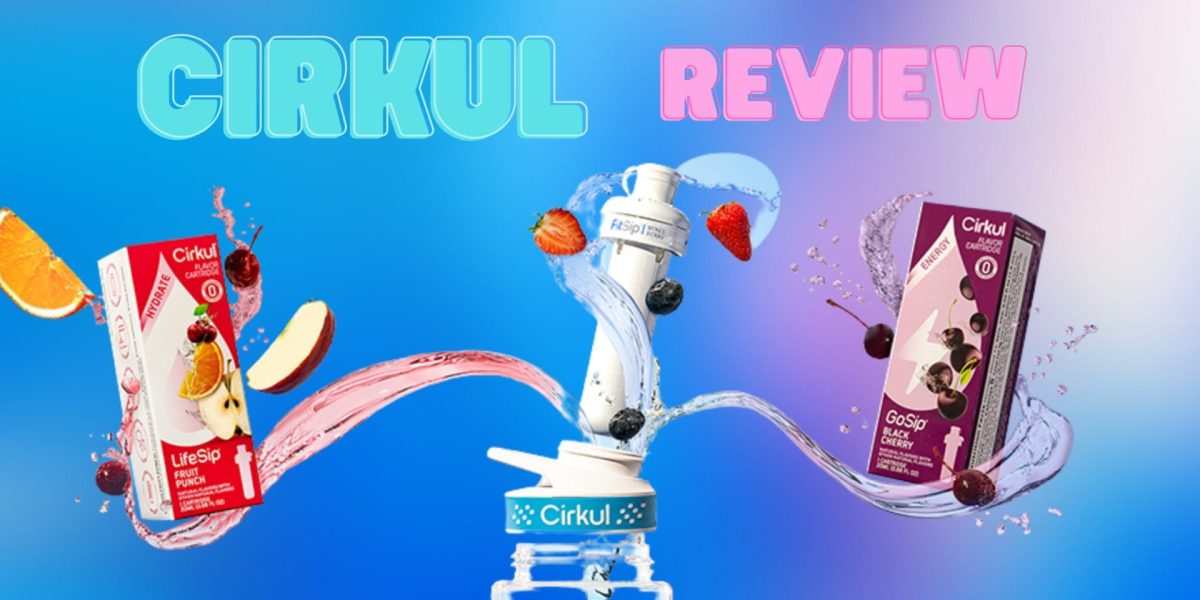 Is Cirkul Right For You?
If you're someone who's always on the lookout for the latest health and fitness trends, then you might have already heard about the Cirkul Water Bottle. This innovative product promises to revolutionize the way you hydrate, making it easier and more convenient to stay hydrated throughout the day. But does it really live up to the hype? In this Cirkul Water Bottle review, we'll take a closer look at this product and help you decide whether or not it's worth your investment.
Cirkul Water Bottle Review:
If you're looking for a water bottle that will help you stay hydrated, the Cirkul water bottle is a great option. This bottle is designed to keep your water cold for up to 24 hours, and it comes with a built-in filter that removes chlorine and other harmful chemicals from your drinking water. In this Cirkul review, we'll talk about the features of the Cirkul water bottle and how it can help you stay healthy and hydrated.
Pros and Cons
Awesome
Cirkul Water Bottle Review: One Of The Best Way to Stay Hydrated
Pros
Allows you to flavor your water without added sugar and calories
Convenient and easy to use
Variety of flavors to choose from
Adjustable flavor intensity
Reusable and environmentally friendly
Leak-proof design
Durable construction
Cons
Can be expensive to purchase and replace flavor cartridges
Some users may find the flavor intensity too weak or too strong
Not dishwasher safe
Flavor cartridges can be difficult to remove and replace
Not suitable for hot liquids
What is Cirkul?
The Cirkul water bottle is made from durable BPA-free plastic, and it has double-wall insulation that keeps your water cold for up to 24 hours. The bottle also comes with a replaceable filter cartridge that removes chlorine and other impurities from your drinking water. The filter cartridge lasts for up to 40 gallons of water, and it's easy to replace when it expires.
They come with flavor packs that they call "Sips". There are a ton of different flavors and styles that include vitamins, electrolytes, caffeine, and more. The Sips basically turn the water in the bottle into flavored water.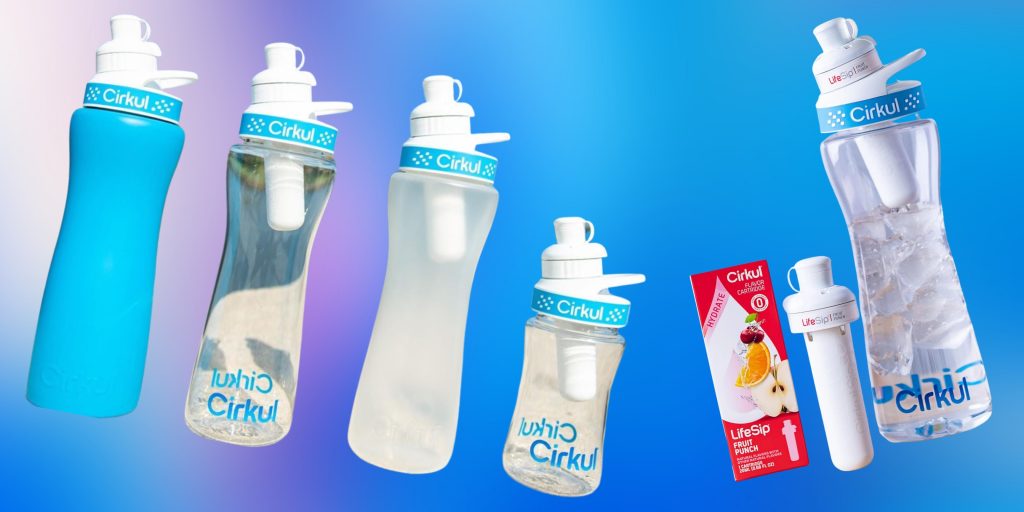 What's So Different About The Cirkul Bottle?
If you're like most people, you probably don't give much thought to the water bottle you use on a daily basis. But what if there was a bottle that could enhance your water-drinking experience in a major way? Enter Cirkul, the world's first and only customizable water bottle.
In our Cirkul review our main goal was to figure out what makes it different from other water bottles on the market. Well, for starters, it has a unique filtration system that allows you to infuse your water with fruit flavors without adding any sugar or calories. That means you can enjoy delicious, healthy drinks without having to worry about packing on the pounds.
But Cirkul doesn't just stop at flavor-infused water; it also allows you to customize the level of hydration you receive with each sip. That's right – with Cirkul, you can control how much water you drink throughout the day, which is perfect for people who often find themselves dehydrated.
Finally, Cirkul is extremely lightweight and portable, making it easy to take with you wherever you go. Whether you're headed to the gym or out for a run, Cirkul will make sure you stay properly hydrated without weighing you down.
Who is Cirkul for?
During our Cirkul review, we found it is a great option for people who are looking for a way to stay hydrated. The built-in filter removes impurities from your drinking water, and the double-wall insulation keeps your water cold for up to 24 hours. If you're looking for a water bottle that will help you stay healthy and hydrated, the Cirkul water bottle is a great option.
Cirkul's Awesome Secret: No Flavors In The Water
We all know that water is essential to life. We also know that it can be pretty boring. That's why Cirkul has taken water and turned it into something special.
Cirkul is a unique, flavor-infusing water bottle that allows you to customize your own flavor combinations. With Cirkul, you're in control of your hydration experience. Whether you're looking for a little pick-me-up or a refreshing way to stay hydrated, Cirkul has you covered.
But what really makes Cirkul awesome is the fact that there are no flavors in the water. That's right, no artificial flavors, no sugar, and no calories. So how does Cirkul infuse flavor into your water?
It's simple really. The Cirkul bottle comes with a flavor cartridge that you insert into the top of the bottle. As you drink, the water passes through the cartridge and picks up the flavor from the natural fruit and vegetable extracts inside.
The best part is that there are endless flavor combinations to choose from. Don't like one combination? Swap out the cartridge for another one. It's that easy.
So why not add a little flavor to your life with Cirkul? There's no easier or tastier way to stay hydrated.
Cirkul Review: How well does it work?
The Cirkul bottle is a great product that really works to keep you hydrated. I have used it for a while now and can say that it definitely works! The bottle has a small compartment where you insert a cartridge. The cartridge, or Sip, contains fruit flavors and electrolytes. When you bite down on the valve, the fruit-flavored water is released and you get a nice, refreshing drink. The electrolytes help to keep you hydrated and the fruit flavors make it taste great. Overall, I highly recommend the Cirkul bottle to anyone who is looking for a great way to stay hydrated.
The Sips are one-way cartilages, so that means your bottle stays nice and clean. No more difficult-to-reach scrubbing from other water flavor alternatives.
How To Use?
Throughout our Cirkul water bottle review, we found it to be simple and straightforward to use. Here are the steps to get started:
Choose your desired flavor cartridge and insert it into the lid of the water bottle.
Fill the bottle with water.
Twist the dial on the lid to adjust the flavor intensity to your liking.
Drink and enjoy!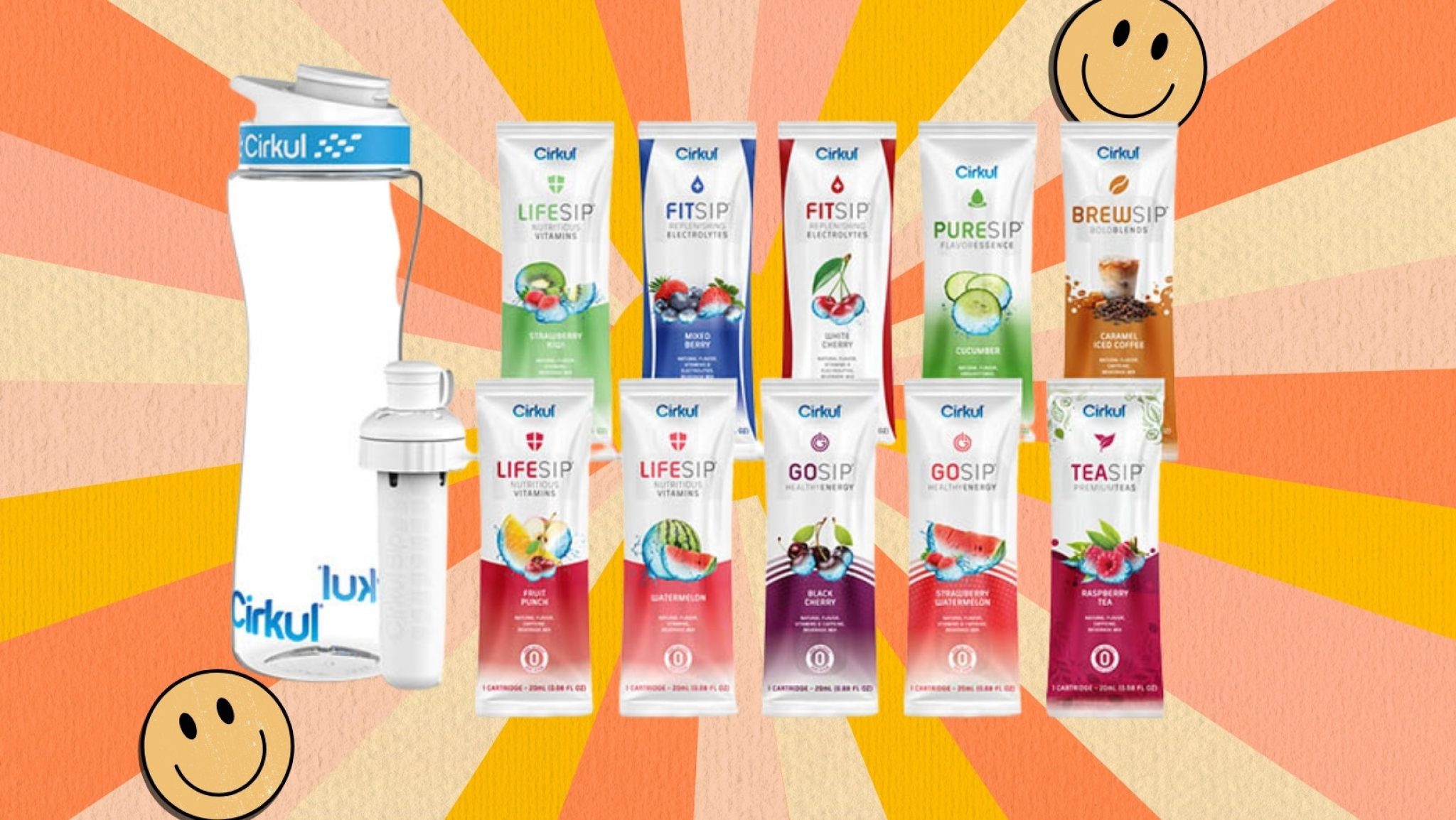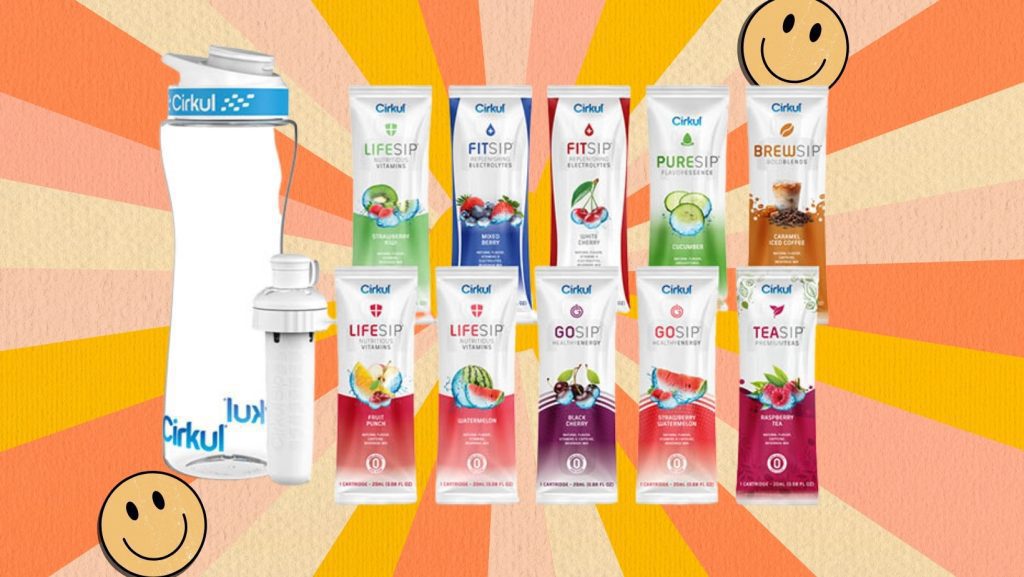 Cirkul Cartridges Review: What Do We Think About The Flavors?
Cirkul is an innovative new product that allows you to enjoy your favorite beverages with a delicious boost of flavor. With Cirkul, you can customize your drink to suit your taste, and keep your options open for endless possibilities.
The best part about Cirkul is that it works with any beverage, whether you're looking to add a little flavor to your water or want to customize your morning coffee. Simply add a few drops of Cirkul's concentrated flavors to your drink and enjoy!
There are currently four delicious flavors available: citrus, strawberry, mixed berry, and green apple. And with more flavors on the way, there's sure to be something for everyone. So whether you're looking for a little refreshment or a fun new way to enjoy your favorite drinks, Cirkul has you covered.
Benefits of Using Cirkul Cartridges
Another thing we found in our Cirkul review is how convenient and easy to use the cartridges are. They eliminate the need to carry around multiple bottles of water or other drinks, which can be a hassle, especially when you're on the go. The pods are also environmentally friendly, reducing the number of plastic bottles that end up in landfills.
Another benefit of using Cirkul cartridges is the variety of flavors available. With options like Peach Mango, Raspberry Lemonade, and Coconut Pineapple, you can switch things up and enjoy a different flavor every day. Plus, the drink mix pods are low in calories, making them an excellent alternative to sugary drinks and sodas.
Flavors Available
Cirkul cartridges come in a wide variety of flavors to suit every taste. From fruity to minty and everything in between, there's a flavor for everyone. Some of the most popular flavors include:
Peach Mango
Raspberry Lemonade
Coconut Pineapple
Strawberry Watermelon
Black Cherry
Blue Raspberry
Orange Tangerine
Mint Green Tea
How to Use Cirkul Cartridges
Using Cirkul cartridges is incredibly easy. All you need to do is:
Fill your Cirkul water bottle with water.
Twist the flavor cartridge onto the bottle.
Adjust the dial on the cap to the desired level of flavor intensity.
Shake the bottle to mix the flavor with the water.
Enjoy!
Are Cirkul Cartridges Healthy?
Cirkul cartridges are a healthy alternative to sugary drinks and sodas. They're low in calories and contain no artificial sweeteners, colors, or flavors. Plus, the pods are made with natural ingredients, so you can feel good about what you're putting into your body.
Where to Buy Cirkul Cartridges
Cirkul cartridges are available for purchase online through the Cirkul website. They're also available at select retailers, including Walmart and Target.
How to Store Cirkul Cartridges
To ensure that your Cirkul cartridges stay fresh, store them in a cool, dry place. Avoid exposing them to direct sunlight or extreme temperatures.
How Long Does Each Cirkul Flavor Cartridge (aka Sip) Last?
That's a great question! And the answer is…it depends! Each Cirkul flavor cartridge is designed to last for a different amount of time, depending on how often you use it. If you're a heavy user, you might go through a cartridge in a week or less. But if you're a more moderate user, your cartridge could last for several weeks.
Of course, the only way to really know how long your cartridge will last is to try it out for yourself. So why not give Cirkul a try today? With our delicious flavors and easy-to-use cartridges, we're sure you'll be hooked in no time!
Cirkul Water Bottle Review: Is it worth buying?
I was really skeptical about the flavor cartridges at first. I mean, how could something that small make such a big difference? But Cirkul has definitely changed my mind. The flavor is so good, and it's helped me drink so much more water than I ever have before. It's also made me feel a lot healthier overall.
I'm not sure if it's the flavor or what, but I've been drinking a lot more water since I got my Cirkul bottle. And I feel great! My skin is clearing up, I have more energy, and I'm just generally feeling better all around. If you're looking for a way to stay hydrated, I would definitely recommend Cirkul. It's helped me so much, and I'm sure it can help you too!
Does Cirkul Offer Any Discounts or Deals?
What's the best part about Cirkul? The discounts and deals! When you sign up for a Cirkul membership, you'll automatically get 20% off all cartridges and flavors – that's a savings of over $20! And if you refer a friend, you'll get an additional discount on your next purchase.
We also have a Cirkul coupons and promo codes page that is updated frequently to feature the best deals and discounts.
The Final Verdict
After reviewing and testing out the Cirkul Water Bottle, we can confidently say that it is a unique and innovative product that can make staying hydrated more enjoyable. The variety of flavors and adjustable intensity settings make it easy to customize your water to your liking. However, the cost of replacing flavor cartridges and the difficulty of removing and replacing them may be a downside for some users.
Additionally, if you prefer hot beverages or drinks with a stronger flavor, the Cirkul Water Bottle may not be the best option for you. However, for those who want a convenient and eco-friendly way to flavor their water, the Cirkul Water Bottle is definitely worth considering.
In summary, the Cirkul Water Bottle is a great product that offers a unique and enjoyable way to stay hydrated. While it may not be suitable for everyone, its convenience, variety of flavors, and adjustable intensity settings make it an excellent option for those looking to spice up their daily water intake. We hope this Cirkul Water Bottle review has helped you decide whether or not this product is right for you!
Cirkul FAQs
What is Cirkul and how does it work?
Cirkul is a company that specializes in providing innovative water bottles that come with flavor cartridges, allowing users to enjoy a wide range of flavors while staying hydrated. The bottles have a unique design that allows users to adjust the flavor strength, and they come in different sizes, colors, and styles. To use a Cirkul water bottle, simply insert a flavor cartridge into the cap and twist the dial to adjust the flavor strength to your liking.
Are Cirkul bottles durable and leak-proof?
Yes, Cirkul bottles are made of high-quality materials that make them durable and leak-proof. The bottles are made of BPA-free plastic and are designed to withstand the rigors of daily use. They are also easy to clean and maintain, and the caps are designed to prevent leaks and spills. Cirkul bottles are an excellent choice for anyone who wants a water bottle that is both functional and stylish.
How long do Cirkul flavor cartridges last?
The lifespan of a Cirkul flavor cartridge depends on several factors, such as the frequency of use, the flavor strength, and personal preferences. On average, a single flavor cartridge can last for up to 15 refills, which is equivalent to around 15-20 liters of water. However, some users may find that they need to replace the cartridge more frequently, while others may find that it lasts longer. Cirkul offers a subscription service that makes it easy to order new cartridges as needed.
Is Cirkul environmentally friendly?
Yes, Cirkul is committed to sustainability and environmentally friendly practices. The company uses BPA-free plastic in its bottles, which is safe for both the environment and human health. Additionally, the flavor cartridges are fully recyclable, and Cirkul encourages users to recycle them when they are empty. By using Cirkul bottles, users can help reduce their environmental footprint and enjoy delicious flavored water at the same time.
Can I return a Cirkul bottle if I am not satisfied?
Yes, Cirkul offers a 100% satisfaction guarantee on its products. If you are not completely satisfied with your purchase, you can return it within 30 days for a full refund or exchange. Additionally, Cirkul has a customer support team that is available to help with any issues or questions that may arise. With Cirkul, you can buy with confidence and enjoy the benefits of flavored water in a stylish and functional bottle.
Are the flavor cartridges reusable?
No, the flavor cartridges are designed to be disposable and are not intended for reuse.
Can I use hot liquids in the Cirkul Water Bottle?
No, the Cirkul Water Bottle is not suitable for use with hot liquids. It is designed for use with cold or room temperature water only.
Where can I buy Cirkul cartridges?
Cirkul cartridges can be purchased directly from the manufacturer's website at www.drinkcirkul.com. They may also be available at select retail locations, but purchasing directly from the manufacturer ensures the authenticity and quality of the product.
Is Cirkul healthy?
Cirkul cartridges contain zero calories, sugar, and carbs, making them a healthier alternative to sugar-laden drinks like soda. Moreover, the cartridges are free from artificial sweeteners and flavors, which can be harmful to health when consumed in excess. However, it is important to note that Cirkul is not a substitute for water and should be consumed in moderation. Excessive consumption of any flavored drink, including Cirkul, can lead to overconsumption of certain nutrients, including sodium and artificial additives. As with any dietary choice, it is best to consult with a healthcare professional to determine the best beverage options for one's specific dietary needs and health goals.