Electric Bikes
Electric Bikes: Reviews, Guides & Comparisons
Electric bikes are becoming more and more popular every year. They are perfect for mountain biking, commuting, or just cruising around town. There are a ton of different electric bikes on the market, so it can be tough to figure out which one is right for you.
Below is our curated collection of electric bikes. We hope you find all the information you need to make an informed decision. We'll also compare different models and give you our top picks for mountain biking, commuting, folding electric bikes, and riding with kids!
So, if you're in the market for an electric bike, check out our curated listings below!
Top 5 Brands for Electric Bikes
Featured Electric Bikes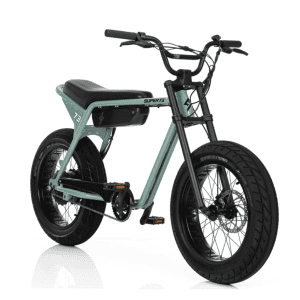 The Super73-ZX Electric Bike comes with updated electronics, a lighter frame, and a larger removable battery than previous models making this one the ...
Showing 1–36 of 60 results
Electric Mountain Bikes:
If you're looking for an electric mountain bike, there are a few things you'll want to keep in mind. First and foremost, you'll want a bike that has enough power to get you up those steep hills. You'll also want a bike that is durable and can take a beating, as mountain biking can be quite rough on your equipment. Lastly, you'll want to make sure the bike is comfortable to ride, as you'll be spending a lot of time in the saddle.
Commuter Electric Bikes:
These bikes are perfect for commuting or riding around town. They usually have a compact frame and/or folding capability, making them easy to store and transport. Many commuter electric bikes also come with features like built-in lights and fenders, making them even more convenient for urban riding. The major advantages of riding an electric bike to work include not having to sit in traffic, hassle-free parking, and you don't have to show up dripping in sweat as you do with a regular bike.
Folding Electric Bikes:
If you're looking for an electric bike that is easy to transport, a folding electric bike is a great option. These bikes usually have smaller wheels and are designed to fold up for easy storage. Some even come with their own carrying case! Folding electric bikes are perfect for people who live in small apartments or need to take their bikes on public transportation.
Electric Bikes For Riding With Kids:
The family that electric bikes together stays together! Just kidding. If you're looking for a family-friendly activity that will get everyone outside and active, electric bike riding is a great option. Not only is it environmentally friendly, but it's also a lot of fun! We know that safety is a top priority for families, so all of the electric bikes we recommend have been thoroughly tested to make sure they're safe for kids of all ages. And we've got a few tips to help you get started riding as a family.
If you're thinking about getting an electric bike for your family, we've got some great reviews and comparisons to help you choose the best one for your needs. And if you're still not sure if an electric bike is right for you, check out our guide to see if it's worth the investment.
So what are you waiting for? Get out there and start pedaling!
Happy electric bike riding!
Seek&Score FAQ about Electric Bikes:
What is the best electric bike? 
This is a common and great question, and the answer is it really depends on what you are looking for. There are so many different types of electric bikes nowadays to fit every need. Make sure to look at our links above as we cover a wide array of bikes for every need.
What is the best electric bike for the money? 
This also depends because you can take advantage of coupons or seasonal offers to get a great electric bike at a great price. Make sure to look at the bikes listed above and sort the results by your budget.
What is the best electric bike for seniors? 
The best electric bike for seniors is a bike that has a step-thru design. This allows for maximum stability and accessibility. There is no top tube to deal with so you can get off your bike easily and you don't have to swing your leg around like a regular bike.
What is the best electric bike for hunting? 
You definitely want to get a bike that has fat tires and is powerful and quiet enough to get you through some rough roads or trails. Check out QuietKat electric bikes as they are specifically built for hunting and all the conditions that come with it.