Molecule Hybrid Mattress Review
Finding the perfect mattress can be a daunting task. With so many options available, it's hard to know which one is right for you. This Molecule Hybrid mattress review will take an in-depth look at one of the newest options on the market, providing you with all the information you need to decide if it's the right fit for your needs.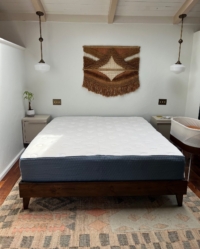 Molecule Hybrid Mattress Review
Each mattress has its unique set of strengths and drawbacks. After a thorough examination, here are the key pros and cons of the Molecule Hybrid mattress:
PROS
Advanced Sleep Technology: One of the primary advantages of the Molecule Hybrid mattress is its sophisticated sleep technology. The mattress utilizes AirTEC™, RecoveryFLO™, and ContourFLO™ layers, which all work in harmony to provide optimal support, pressure relief, and temperature regulation.
Excellent Temperature Regulation: Thanks to the AirTEC™ layer and breathable cover, the Molecule Hybrid is highly efficient at dissipating heat and maintaining a cool sleep surface, a benefit frequently appreciated by hot sleepers.
Supportive and Comfortable: With its hybrid design, the Molecule mattress provides the perfect balance of comfort and support. The memory foam layers offer pressure relief and contouring, while the innerspring base adds durability and firmness.
Designed for Recovery: What truly sets Molecule mattresses apart is their focus on recovery. The layers are designed to provide restorative sleep, making this mattress an excellent option for athletes and those with physically demanding lifestyles.
Durable Construction: From customer feedback and the quality of materials used, the Molecule Hybrid appears to have a robust construction that can withstand the test of time.
CONS
Price: The Molecule Hybrid mattress, given its advanced technology and high-quality materials, comes with a relatively higher price tag compared to some other mattresses in the market. While many customers find the value matches the price, it may not be the best fit for those on a tight budget.
Limited Firmness Options: As of the date of this review, the Molecule Hybrid is available in one firmness level – medium-firm. While this suits a wide range of sleepers, it may not cater to those who prefer a very soft or very firm feel.
Initial Off-Gassing: Like many bed-in-a-box mattresses, the Molecule Hybrid might have a slight off-gassing smell when first unpacked. While this smell typically dissipates within a few days and is non-toxic, it may be off-putting to some customers.
Heavy to Move: Due to its hybrid construction and substantial build, the Molecule Hybrid mattress can be quite heavy. This might make it challenging to move or rotate without assistance.
My Personal Experience with the Molecule Hybrid Mattress
As my wife and I unboxed our new Molecule Hybrid mattress, the first impression was one of high-quality build and a clean, modern design. The mattress took its full shape in just a few hours, and any initial off-gassing smell dissipated in a day or so, much to our relief.
As a side sleeper, I often struggle with shoulder and hip pain. However, with the Molecule Hybrid, I noticed significant pressure relief in these areas from the very first night. The mattress seemed to conform to my body shape perfectly, offering support exactly where it was needed.
My wife, a back sleeper, echoed my sentiments. She was particularly pleased with how the mattress maintained spinal alignment, saying it relieved her chronic back pain, something that was lost with our previous mattresses.
We have a six-month-old sleeping in our room, so it's safe to say that our current sleeping habits are a bit choppy. But, with that said, what truly surprised us about the Molecule Hybrid was the improvement in our sleep quality compared to our previous mattress. We woke up feeling more rested and rejuvenated than before – even with a few hours of sleep a night sometimes. The company's emphasis on recovery isn't just a marketing spiel – it really does contribute to a deeper, more restful sleep.
On warmer nights, we struggled with heat retention with our previous memory foam mattress. The Molecule Hybrid, however, was very different. We've been sleeping cool and comfortably thanks to its exceptional temperature regulation capabilities. No more night sweats, no more tossing and turning to find a cooler spot.
It's been a few months since we started using the Molecule Hybrid mattress, and our initial positive impression has only been reinforced. The mattress has maintained its shape and support, showing no signs of sagging or softening. We've continued to enjoy restful sleep, waking up without the aches and stiffness that were part of our mornings before.
We've been thrilled with the mattress so far. The combination of comfort, support, and advanced sleep technology has enhanced our sleep quality. We've been stoked about how cool the mattress stays, too. The Molecule Hybrid has proven to be an investment in not just a product. We recommend it to anyone seeking a balanced blend of comfort, support, and coolness in a mattress.
Overview of Molecule Mattresses
Molecule Hybrid Mattress
The Molecule Hybrid mattress is a premium mattress that combines the best of both worlds: memory foam and individually wrapped coils. This unique blend offers unparalleled support and comfort, with a cooling design that ensures a restful night's sleep.
Features of the Molecule Hybrid Mattress
Comfort Layer and Construction
The Molecule Hybrid is an innovative blend of foam and innerspring technology. The upper layer, termed the "advanced recovery layer," is constructed with Molecule's proprietary AirTEC™ foam, which provides exceptional comfort and promotes cooling.
Beneath this lies the responsive layer, composed of the RecoveryFLO™ 3-zone dynamic response layer, designed to adapt to your body shape, providing support where needed.
The mattress is capped off with a base layer of a ContourFLO™ maximum support layer, ensuring a strong foundation for the mattress.
Molecule Hybrid Mattress
Molecule Hybrid Mattress
Cooling Technology
Sleeping hot can interrupt your sleep cycle and hinder recovery. Molecule addresses this concern with its AirTEC™ top layer and breathable cover, allowing for optimal airflow and temperature regulation.
A satisfied customer wrote, "I used to wake up sweaty with my old mattress. Ever since switching to the Molecule Hybrid, I've been sleeping cool and comfortable."
Edge Support
The Molecule Hybrid Mattress offers excellent edge support, thanks to its reinforced perimeter. This design ensures that you can sleep comfortably near the edge of the bed without feeling like you're going to roll off.
Motion Isolation
Motion isolation is a crucial feature for couples sharing a bed. The Molecule Hybrid excels in this area, as the individually wrapped coils minimize motion transfer, so you won't be disturbed by your partner's movements during the night.
Zoned Support
The Molecule Hybrid Mattress features zoned support, which provides targeted support for different areas of the body. This design ensures proper spinal alignment and pressure relief, resulting in a night of more comfortable and restorative sleep.
Durability
Durability is a crucial factor in a mattress's long-term performance. The high-quality materials and robust construction of the Molecule Hybrid Mattress contribute to its longevity.
An owner of the mattress shared, "After two years of regular use, my Molecule Hybrid still feels as good as new."
Comparing Molecule Mattresses
Molecule Hybrid vs Molecule 1
The Molecule Hybrid offers more advanced features than the Molecule 1, including the zoned support and the individually wrapped coils. However, the Molecule 1 is a more budget-friendly option for those who still want a high-quality memory foam mattress.
Molecule Hybrid vs Molecule 2
The Molecule Hybrid and Molecule 2 mattresses both offer advanced features, such as zoned support and cooling technology. The main difference between the two is the construction: the Molecule Hybrid has a combination of memory foam and individually wrapped coils, while the Molecule 2 is an all-foam mattress. The Hybrid may provide better edge support and motion isolation due to the coil system, but the Molecule 2 could be a better choice for those who prefer an all-foam mattress.
Molecule Hybrid Mattress Vs. Competitors
It's beneficial to understand how the Molecule Hybrid fares against other popular brands in the market.
Molecule Hybrid Mattress Vs. Casper Hybrid
The Casper Hybrid, like the Molecule Hybrid, combines foam and spring for a balance of support and comfort. While both mattresses deliver excellent performance, the Molecule Hybrid stands out for its advanced sleep technology and cooling capabilities.
Molecule Hybrid Mattress Vs. Tempur-Pedic Hybrid
Tempur-Pedic offers luxury hybrid mattresses known for their pressure-relieving properties. However, they can sleep hot for some users. In contrast, the Molecule Hybrid excels in offering a cooling sleep experience without compromising on comfort.
Price and Sizes
Price
The Molecule Hybrid mattress is priced slightly higher than its all-foam counterparts, reflecting the advanced features and construction. However, it still offers excellent value for money, considering the quality and comfort provided. At the time of writing this Molecule Hybrid review, prices started at $1,299.
Sizes
The mattress is available in a variety of sizes, including Twin, Twin XL, Full, Queen, King, and California King. This ensures that there's an option to suit every sleeper's needs and preferences.
Conclusion in our Molecule Hybrid Review
In conclusion, the Molecule Hybrid mattress is an excellent choice for those seeking a mattress that combines the benefits of memory foam and individually wrapped coils. With its advanced cooling technology, zoned support, and motion isolation, it offers a comfortable and restorative night's sleep. While it may be slightly more expensive than some other options, the quality and features make it well worth the investment.
Molecule Hybrid FAQs
Is the Molecule Hybrid mattress suitable for all sleep positions? Yes, the Molecule Hybrid is designed to accommodate all sleep positions, thanks to its zoned support system and the combination of memory foam and coils.
Does the Molecule Hybrid mattress require a box spring? No, the Molecule Hybrid is compatible with various bed bases, such as adjustable bases, platform beds, and slatted frames. A box spring is not required but can be used if desired.
What is the trial period and warranty for the Molecule Hybrid mattress? The Molecule Hybrid comes with a 100-night risk-free trial and a 10-year limited warranty.
Is the Molecule Hybrid mattress eco-friendly? Yes, the Molecule Hybrid is made using CertiPUR-US certified foams, which are free from harmful chemicals and have low VOC emissions.
How is the Molecule Hybrid mattress shipped? The Molecule Hybrid is shipped compressed and rolled in a box for easy transportation and setup. It's recommended to give the mattress 24-72 hours to fully expand before use.