A Look at the Eco-Friendly Diaper Service
In the world of diapers, parents are always looking for better options in terms of comfort, quality, and environmental impact. One brand that has made waves in this industry is Dyper. In this Dyper review, we will dive deep into the world of environmentally friendly diapers, exploring their features, benefits, pricing, and overall customer satisfaction. Let's find out if Dyper is truly worth the hype.
My Personal Experience with Dyper
My wife and I used Dyper diapers for about two months alongside Honest and Coterie diapers. We have two kids and were able to test both the newborn and toddler sizes. Overall, our experience with the Dyper diapers and wipes was great.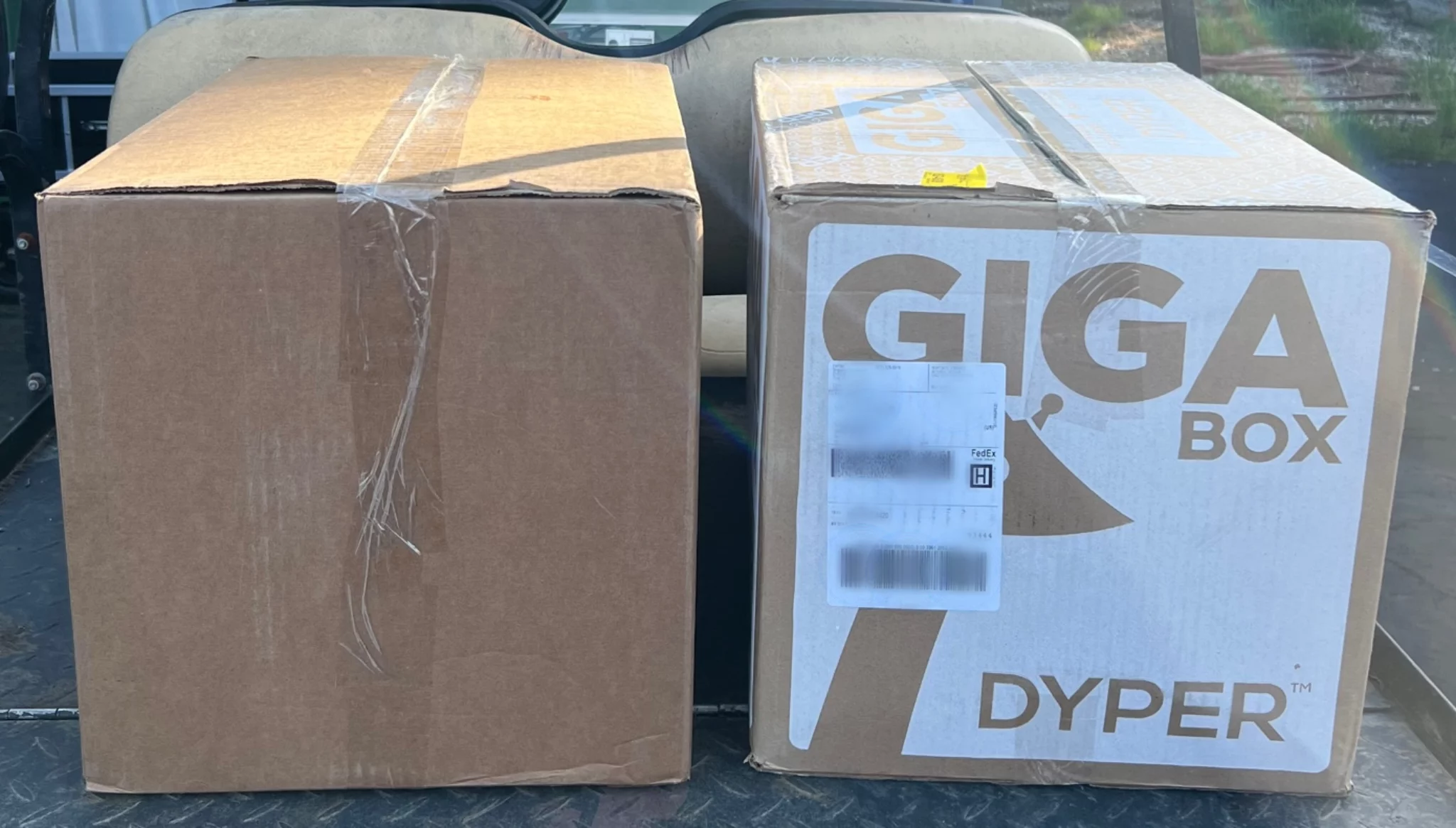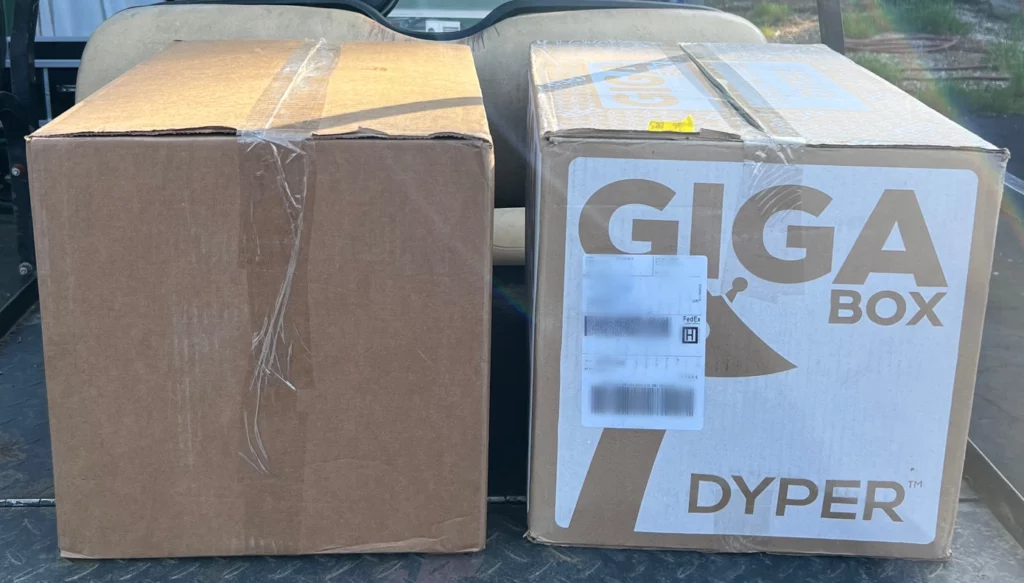 We received two Dyper Giga Boxes in the mail. The newborn box came with 228 diapers and four packs of plant-based wipes that contain 60 wipes in each pack. The XX Large, size 6 box came with 126 diapers and the same amount of wipes. One cool thing about the packaging is it's all eco-friendly too. That's a major plus in our Dyper review.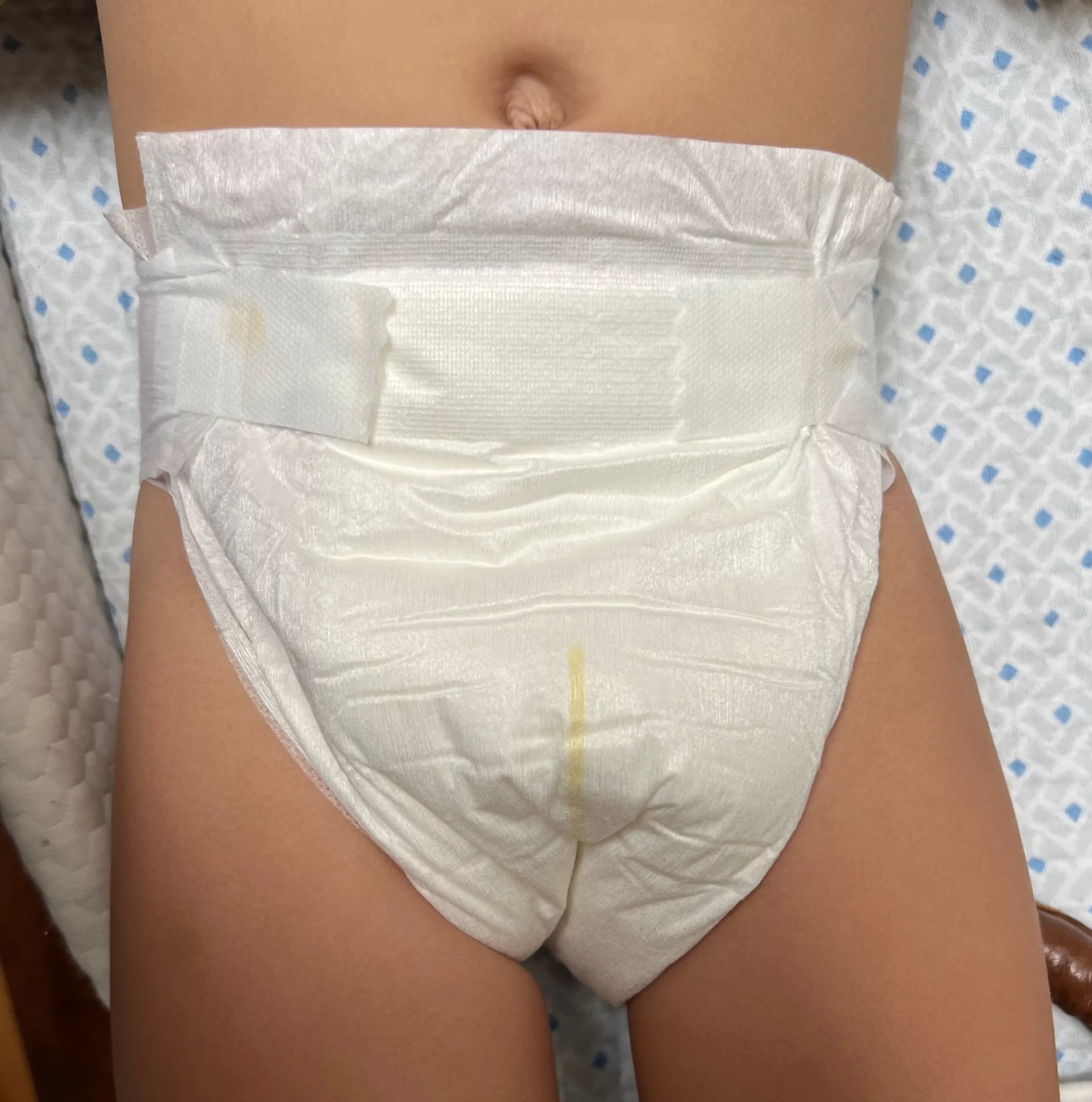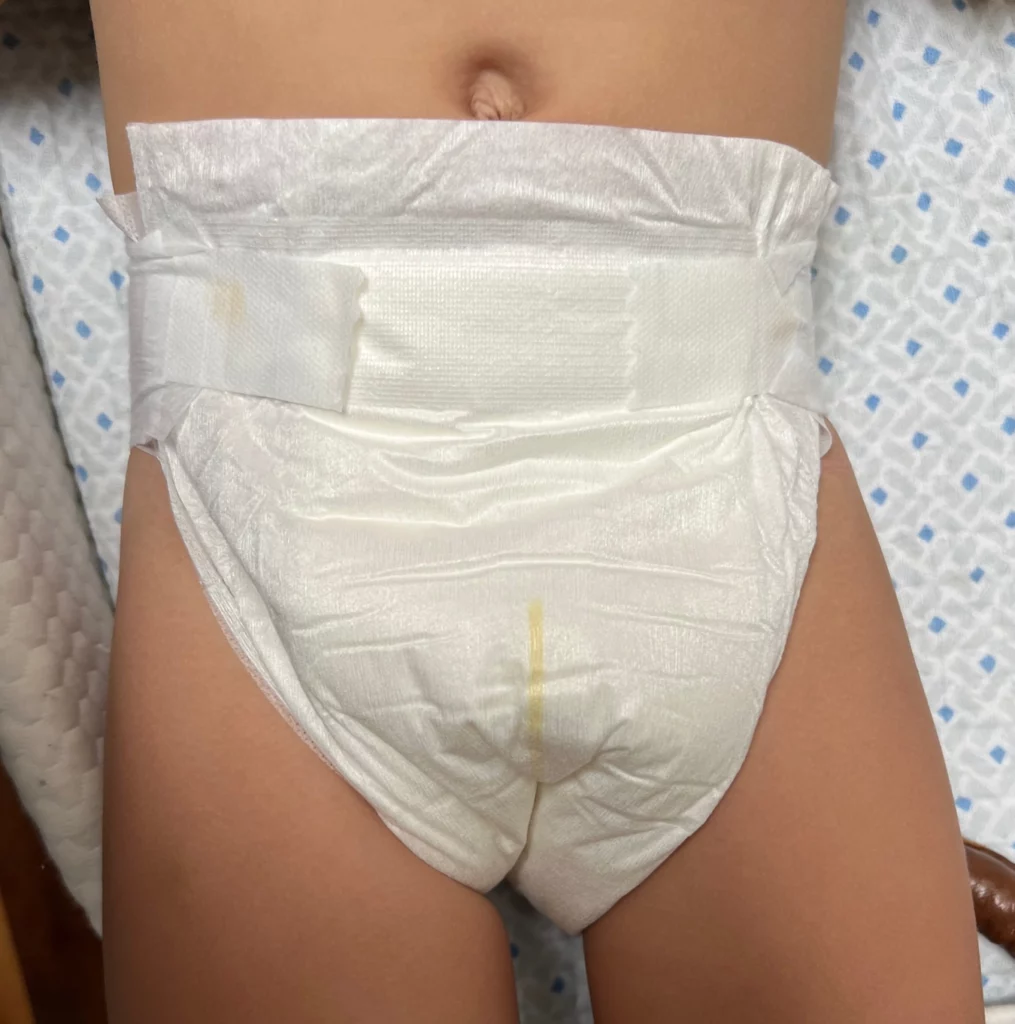 At first glance, the diapers looked pretty nice. For some reason, I had the idea in my mind that the diapers would be a little bit rough or fibery because they were made from bamboo, but that was not the case at all. The material is very soft and comfortable. Our two kiddos never received any rashes while wearing them, which has not been the case with some other brands.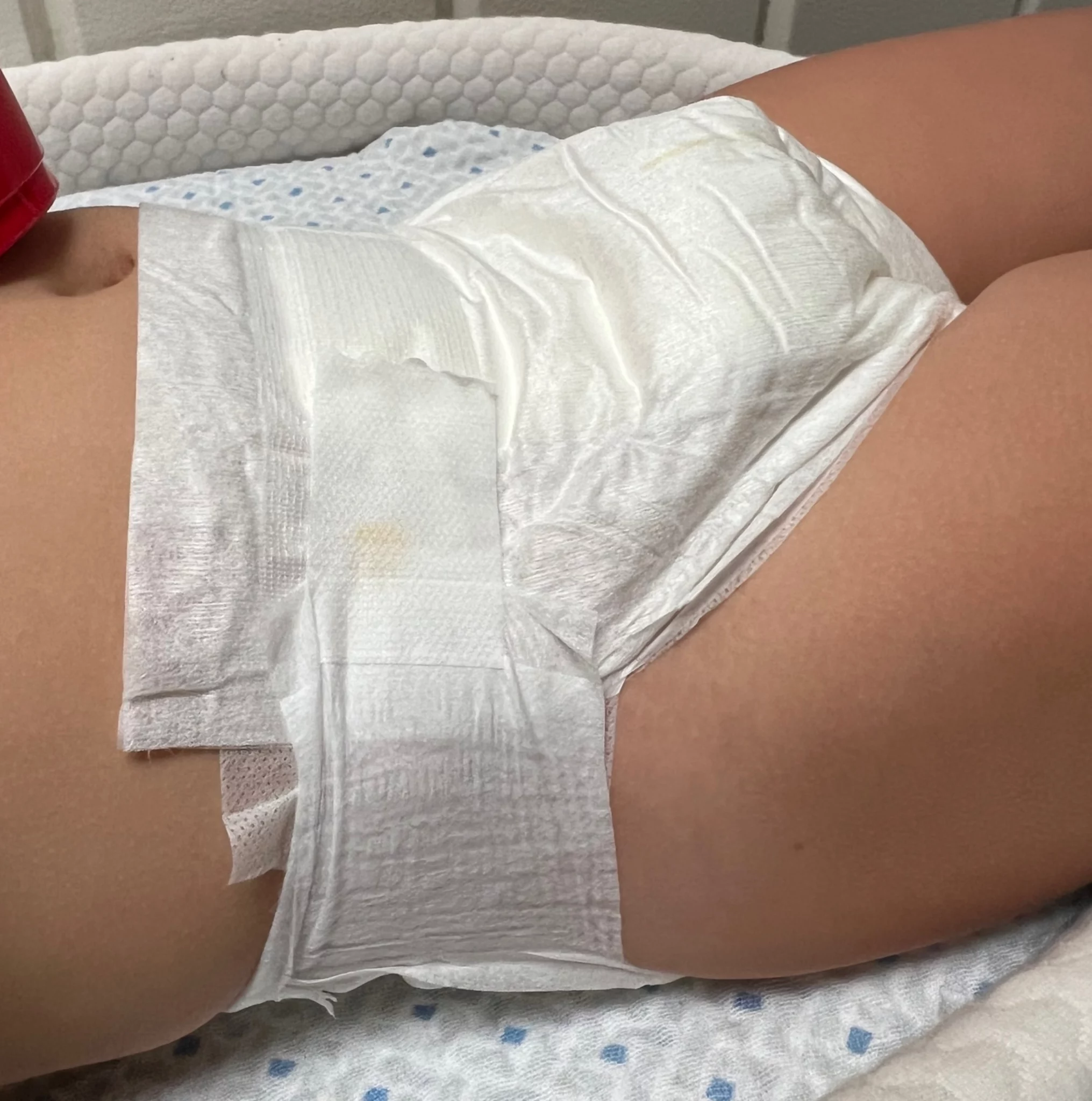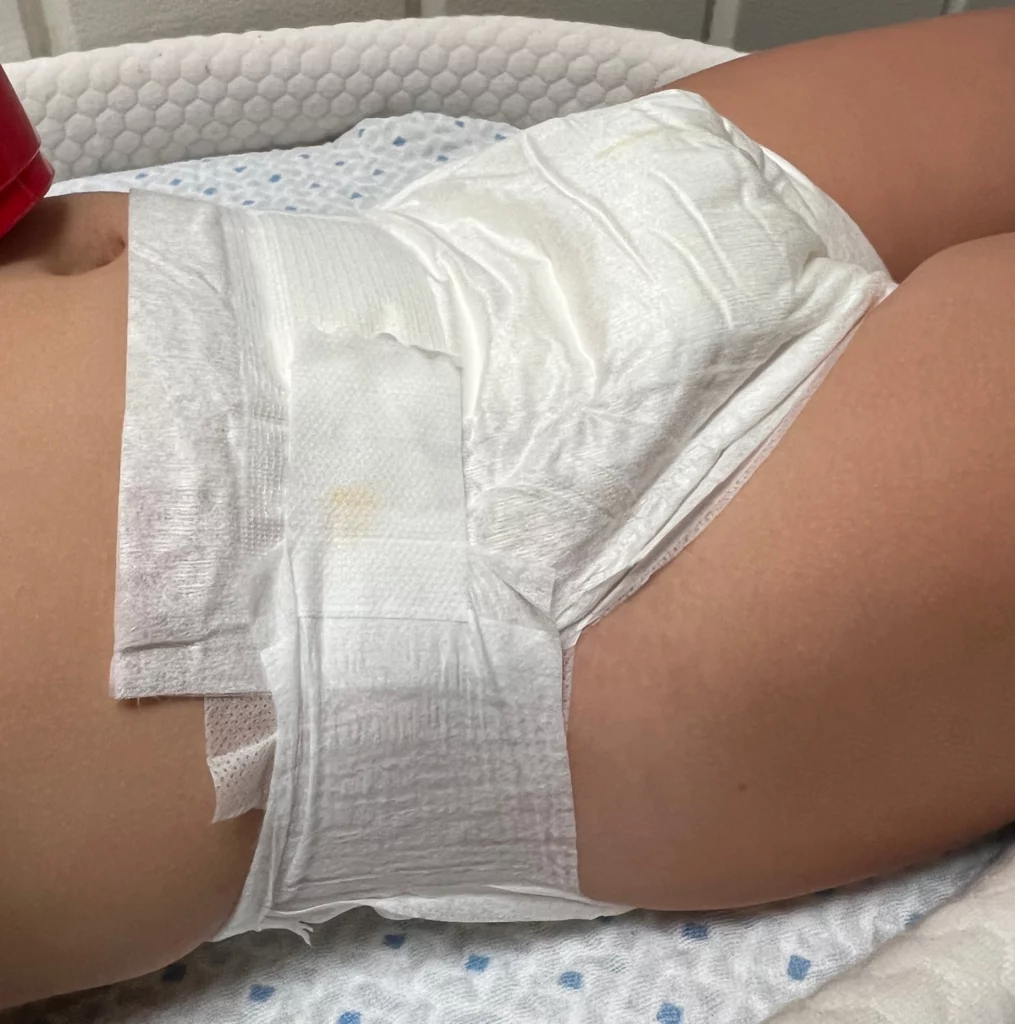 The fit and absorbency of the Dyper diapers were great too. When comparing them to the Honest and Cotorie diapers, the pad seems to run a bit longer in both the back and the front, which is great for catching all the moisture when they are laying down during a nap.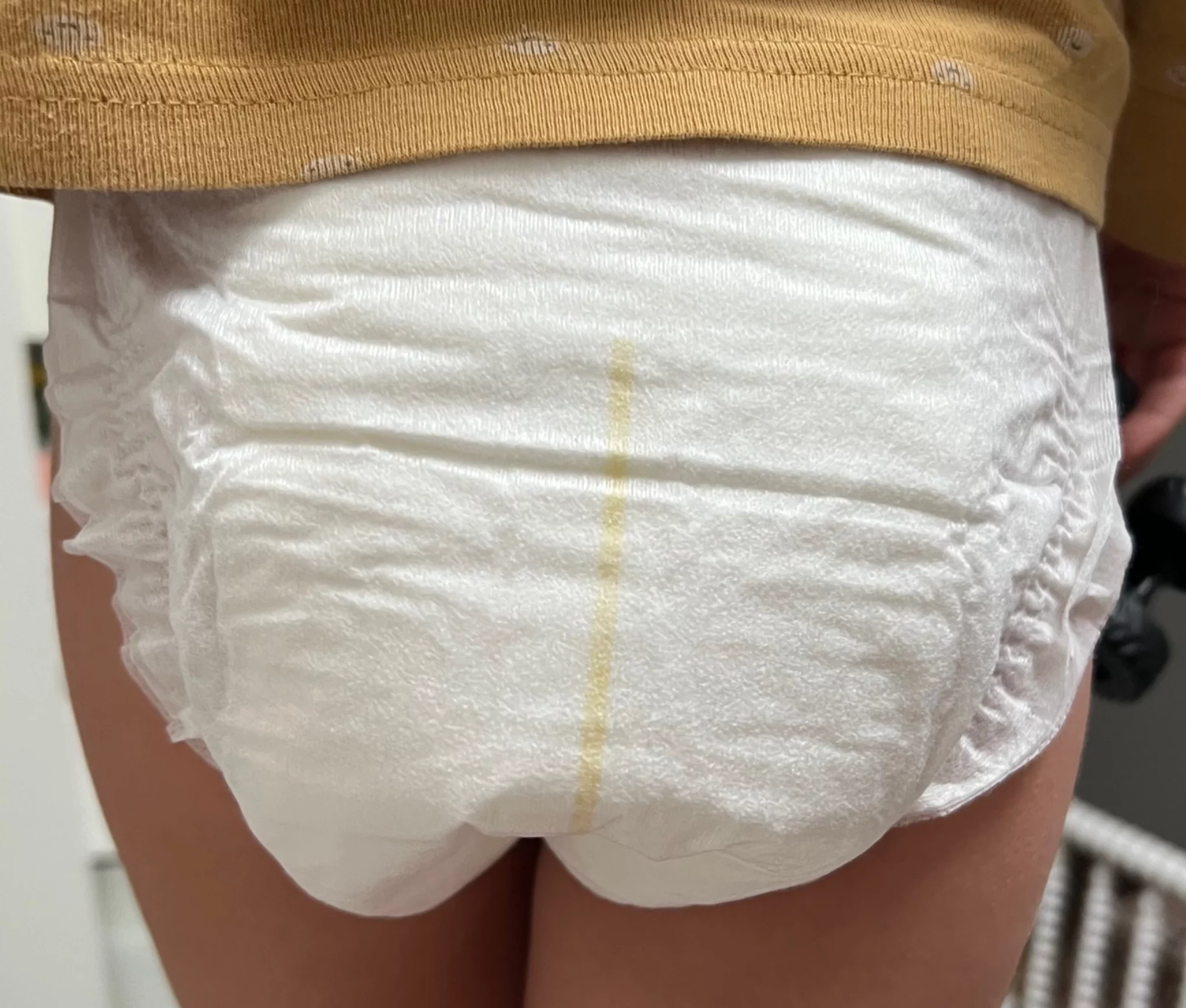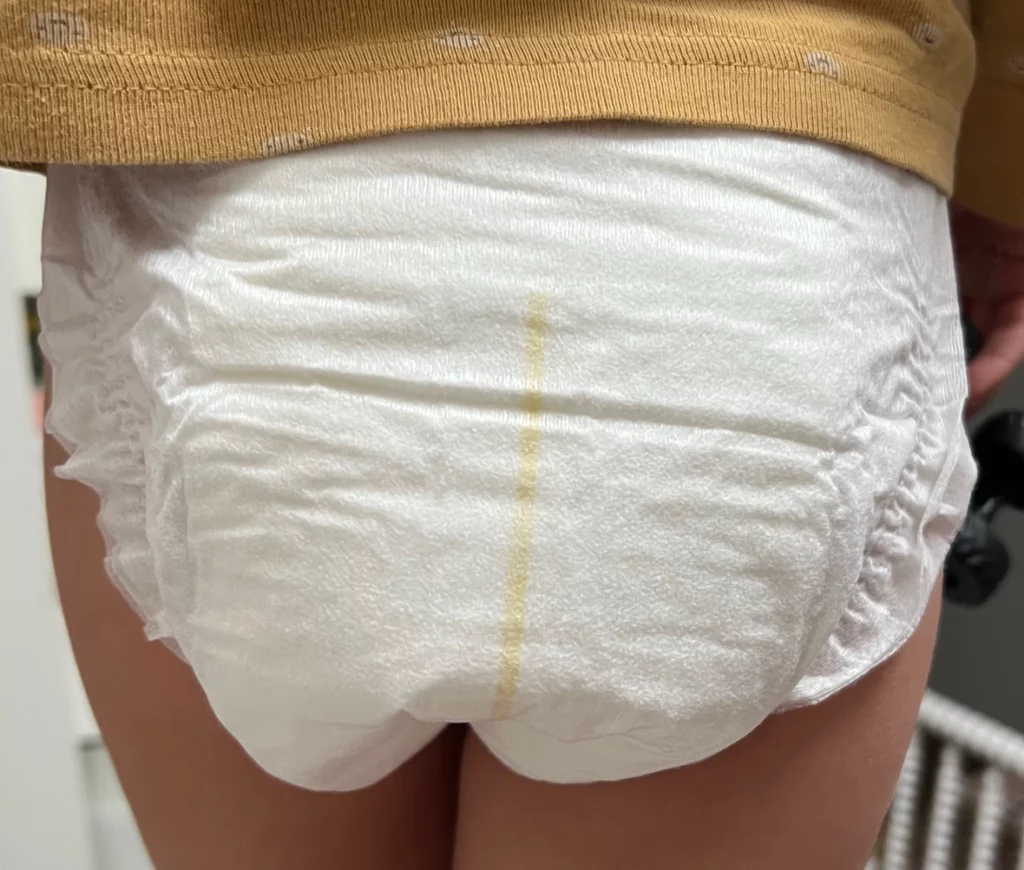 The wipes are awesome too. They are also plant-based and made without all the harmful things like alcohol, perfumes, and parabens. A major win there. A baby with gentle, new skin should not have a bunch of chemicals and artificial fragrances put on them.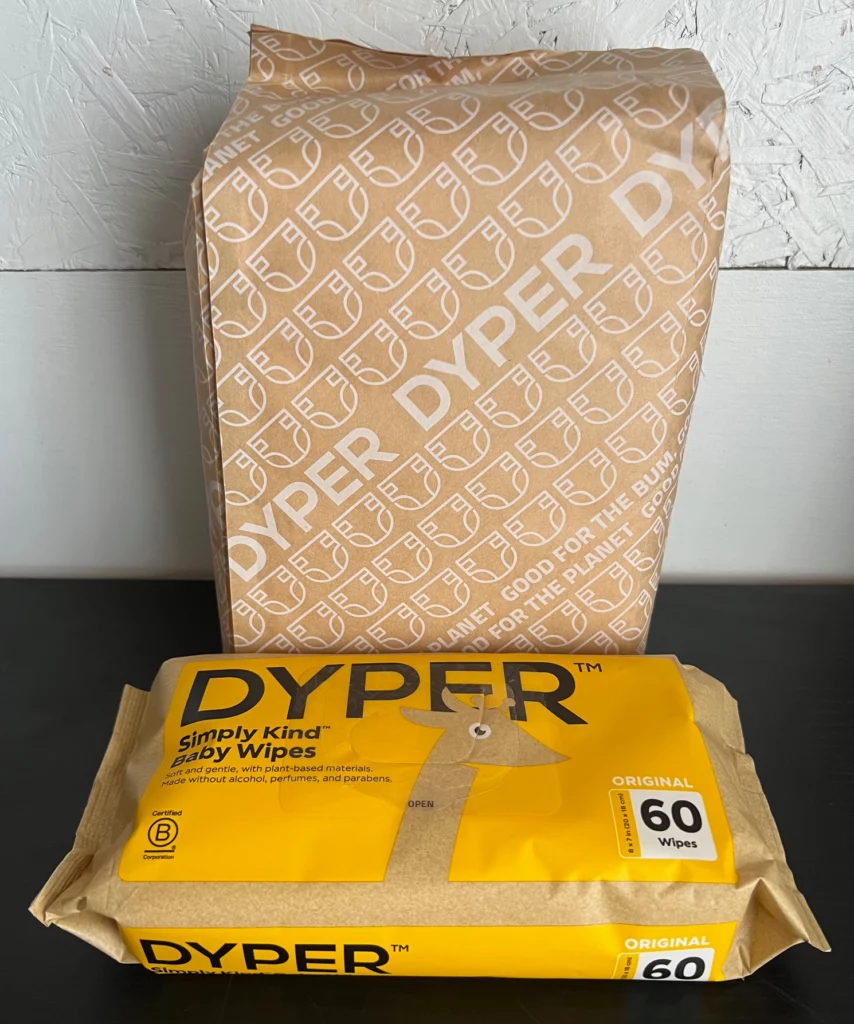 Dyper vs Honest Diapers
We were using Honest diapers before receiving the Dyper diapers, so it was nice to have them to compare during our Dyper review. Aesthetically, these diapers look very different. Mostly because Honest uses eye-catching patterns on their diapers. These patterns are pretty fun, but it does make it hard to see the wetness line indicator. The Dyper diapers are all white making the yellow or blue line very obvious.
The design and fit are pretty similar. Both companies exclude all the junk like chlorine, latex, fragrances, etc that is found in other brands. In terms of environmental impact, Dyper does get the nod as its products are made from renewable resources and are biodegradable under the right conditions.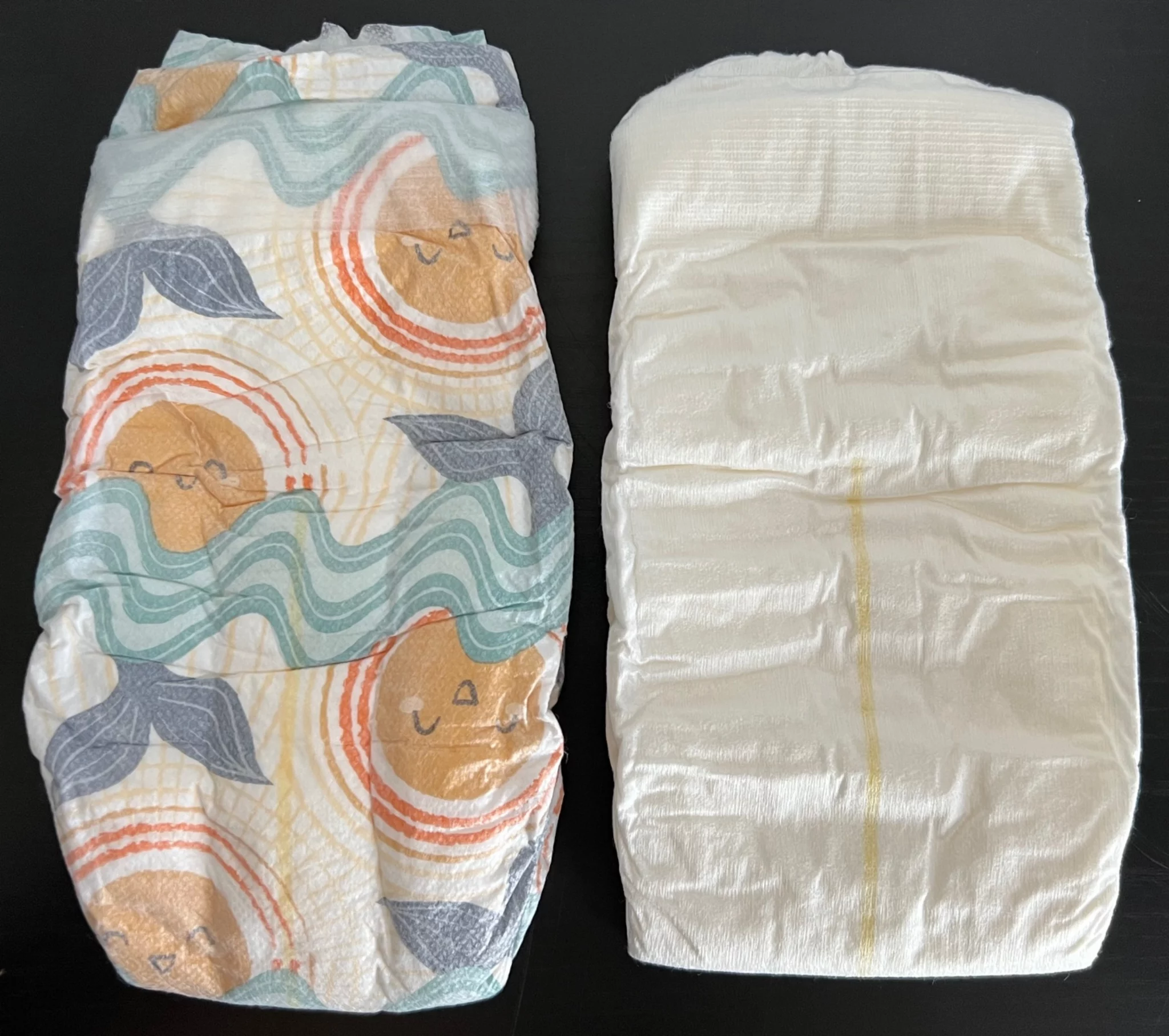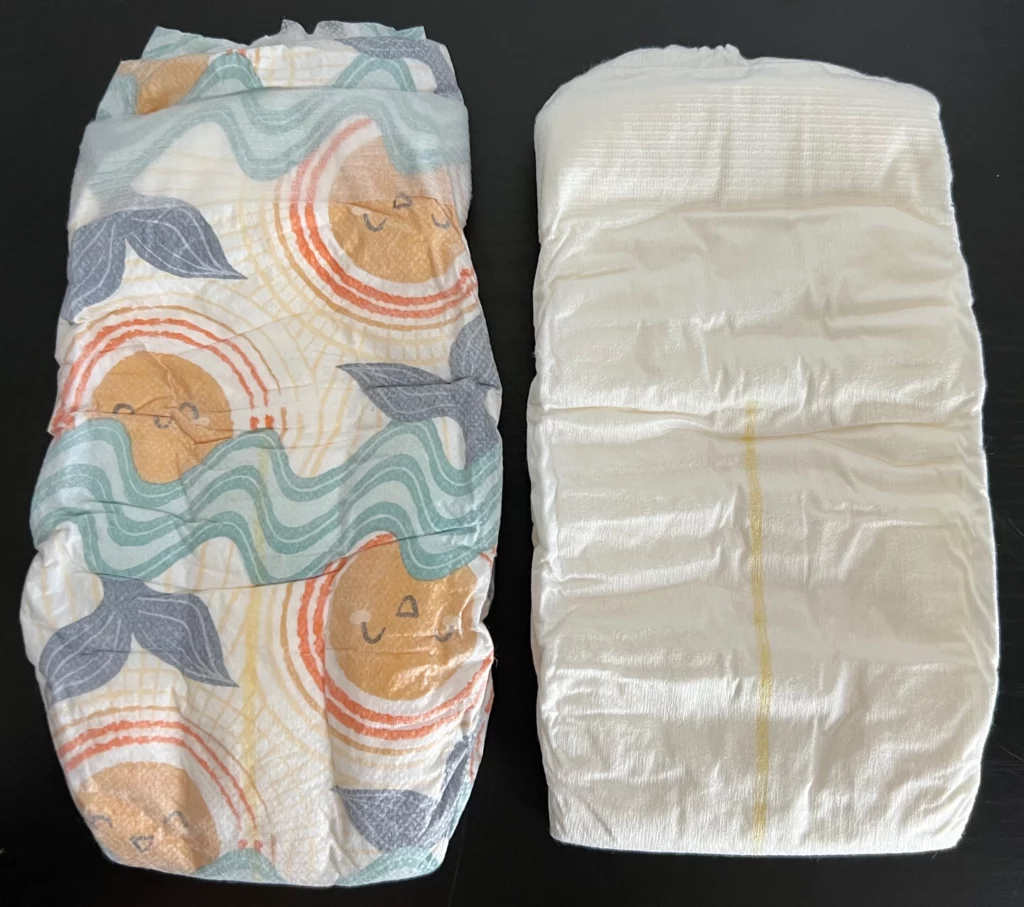 Dyper vs Coterie Diapers
We were gifted some Coterie diapers, so it was really nice to have them during our Dyper review, too. Coterie diapers are like the luxury car version of diapers, but just like with nice cars, it comes with a heftier price tag, so let's keep that in mind.
Aesthetically, the diapers look pretty similar. They both take the minimalist approach, offering only plain, unprinted diapers.
The fit and quality of Dyper are great, as previously mentioned, but Coterie takes the nod here. Coterie's cashmere-like feel is so soft and welcoming, probably why it is more expensive. Both absorb liquid very well. As I pointed out earlier, the pad on Dyper is longer in the front and back, so it seems to absorb better when they went to the bathroom while laying down.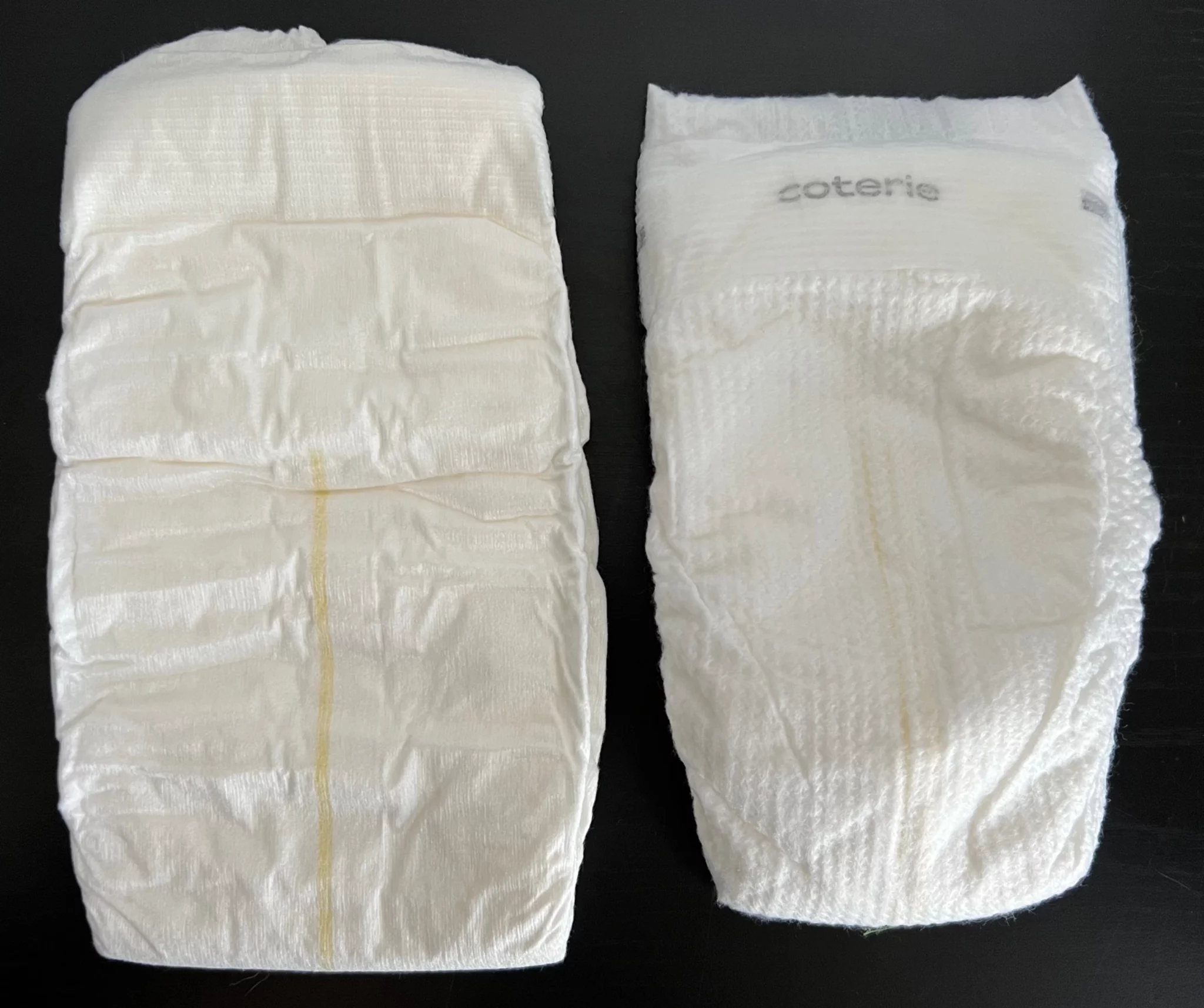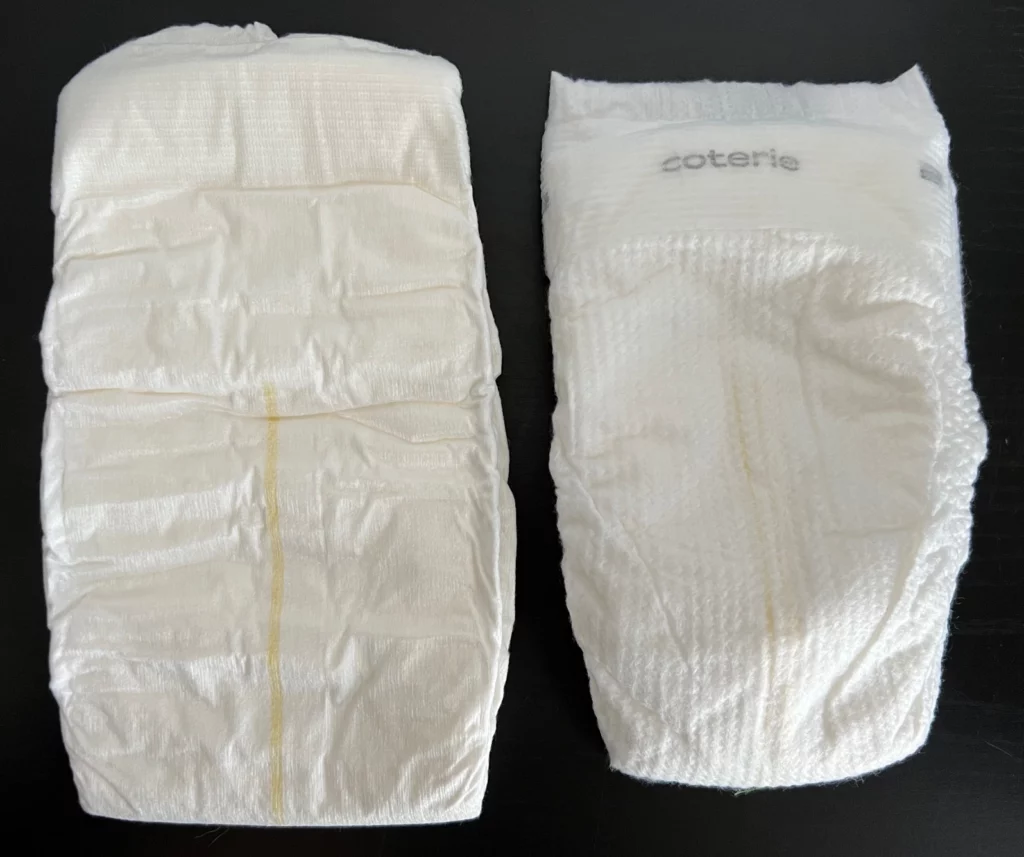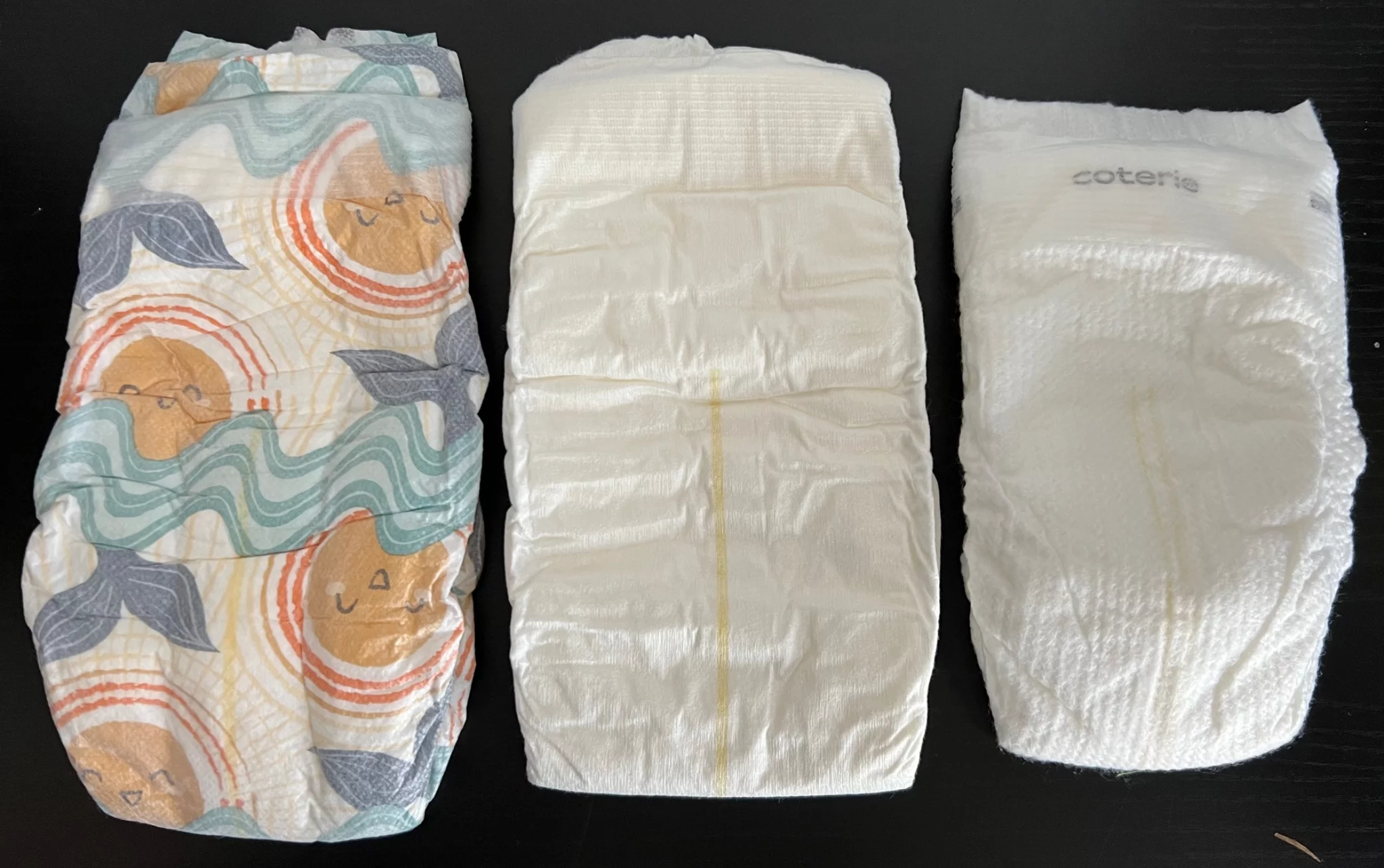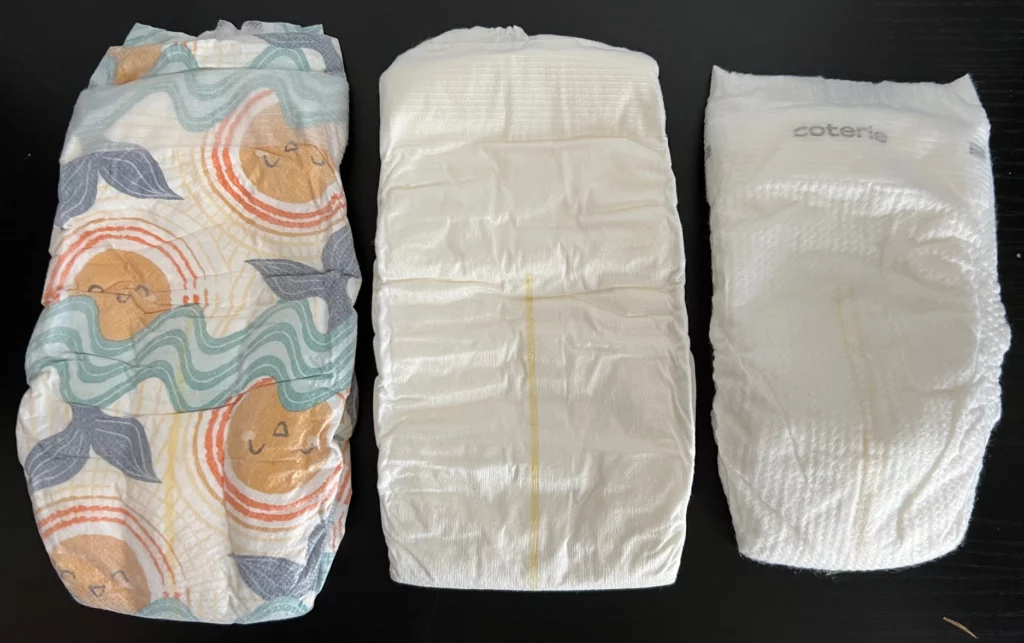 Dyper Pros and Cons
Pros
Environmentally friendly, sustainable materials
Comfortable and highly absorbent diapers
Customizable subscription service with flexible options
The REDYPER recycling program reduces waste
No harmful chemicals, fragrances, or dyes
Cons
More expensive than some other diaper brands
Limited design options (no prints or characters)
Recycling service only available in certain areas
What is Dyper?
The Company
Dyper is an eco-conscious company that offers a subscription-based diaper service. They pride themselves on providing high-quality, environmentally friendly diapers made from sustainable materials. Dyper's mission is to make diapering convenient, affordable, and responsible for both parents and the planet.
Subscription Service
Dyper's subscription service allows parents to receive a regular supply of diapers, delivered straight to their door. This eliminates the need for last-minute runs to the store and helps ensure that parents always have a fresh stock of diapers on hand. Parents can customize their subscription based on their baby's needs and adjust it as the baby grows.
Dyper Diapers: Features and Benefits
Eco-Friendly Materials
Dyper diapers are made from bamboo, which is a renewable and sustainable resource. Bamboo is highly absorbent, soft, and hypoallergenic, making it perfect for sensitive baby skin. The diapers are free from harmful chemicals, fragrances, and dyes, ensuring the safety and comfort of your little one.
Comfort and Fit
Dyper diapers are designed with a contoured fit that provides both comfort and leak protection. The stretchy waistband and leg cuffs ensure a snug fit without causing irritation. Moreover, the soft, breathable materials keep your baby's skin dry and comfortable throughout the day.
Absorbency
One of the most critical factors in a diaper's performance is its absorbency. Dyper diapers feature a highly absorbent core that can hold up to 2.5 cups of liquid, providing excellent leak protection. The wetness indicator also makes it easy for parents to know when it's time for a diaper change.
Designs and Sizes
Dyper offers diapers in various sizes, catering to babies from newborns to toddlers. The simple, minimalist design of the diapers adds a touch of elegance, while the absence of cartoon characters or patterns keeps the focus on their eco-friendly features. The absence of patterns or designs on the diapers also makes it really easy to see the wetness indicator – a major plus!
The REDYPER Program
Recycling Process
Dyper's commitment to sustainability goes beyond just producing eco-friendly diapers. The REDYPER program allows parents to recycle their used diapers, ensuring that they don't end up in landfills. The recycling process is simple: parents collect their used diapers in a provided REDYPER bag, and once it's full, they schedule a pick-up through the Dyper app. The used diapers are then transformed into useful materials such as pulp, pet litter, and construction materials.
Environmental Impact
The REDYPER program significantly reduces the environmental impact of disposable diapers. By recycling used diapers, Dyper helps prevent them from ending up in landfills, where they can take hundreds of years to decompose. This commitment to sustainability sets Dyper apart from other diaper brands and makes it an attractive choice for eco-conscious parents.
Pricing and Subscription Options
Subscription Plans
We didn't use the subscription during our Dyper review, but they offer a variety of subscription plans to fit different budgets and needs. Parents can choose from weekly, bi-weekly, or monthly deliveries, with the option to adjust the frequency as needed. The subscription price depends on the selected plan and the baby's diaper size, with discounts available for longer commitment periods.
Cancelation and Changes
Dyper understands that parents' needs can change over time, so they've made it easy to cancel or modify subscriptions. Parents can cancel their subscription at any time without penalty, and they can also pause or change the delivery frequency, diaper size, or quantity as needed.
Conclusion for Our Dyper Review
Dyper offers an eco-friendly diaper service that combines convenience, sustainability, and quality. With customizable subscription plans, comfortable and absorbent diapers, and a unique recycling program, Dyper stands out as a responsible choice for parents who care about their baby's comfort and the planet's wellbeing. While it may be more expensive than some alternatives, the benefits of Dyper's environmentally conscious approach and high-quality diapers make it a worthwhile investment for many families.
Dyper FAQs
Is Dyper actually eco-friendly?
While Dyper diapers are made from sustainable bamboo materials, they are not 100% biodegradable due to the presence of some synthetic components. However, the REDYPER recycling program helps to minimize its environmental impact.
Is Dyper chlorine-free?
Yes, Dyper does produce chlorine-free diapers. They state that their diapers do not contain chlorine, which is often used in traditional diaper production to bleach the materials and give them a pure white color. Chlorine in diaper production can lead to the creation of dioxins, harmful byproducts that are not environmentally friendly and can be potentially hazardous to human health.
How much do Dyper diapers cost?
A box costs $99 or $89 if you do the recurring subscription. Be sure to check out our Dyper coupon codes and deals page for the latest offers.
Can I try Dyper diapers before committing to a subscription?
Yes, Dyper offers a trial pack that allows you to test their diapers before signing up for a subscription. This way, you can ensure that the diapers are suitable for your baby's needs.
How do I determine the right Dyper diaper size for my baby?
Dyper provides a sizing chart on their website to help you choose the appropriate diaper size based on your baby's weight and age.
Is Dyper available outside the United States?
Currently, Dyper's services are only available in the United States. However, they are working on expanding their services to other countries in the future.
Are there any additional fees for the REDYPER recycling program?
The REDYPER recycling program is included in your Dyper subscription at no extra cost. However, you may need to purchase additional REDYPER bags for recycling, depending on your subscription plan.