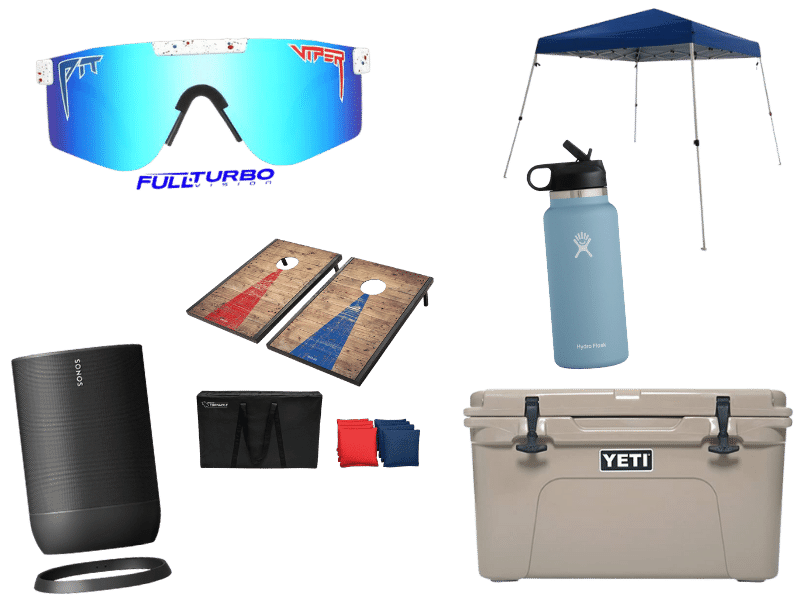 As the 4th of July 2023 approaches, preparation is key to a memorable outdoor celebration. The right outdoor and active lifestyle gear can enhance the experience, enabling you to immerse yourself fully in the festivities while staying comfortable, hydrated, and entertained.
Whether you're planning a beachside picnic, a backyard BBQ, a camping trip, or a neighborhood block party, selecting high-quality gear that meets your specific needs can make a world of difference. From shelter and seating solutions to hydration, grills, speakers, outdoor games, and eco-friendly dining sets, every item plays a role in creating an unforgettable Independence Day celebration.
NEMO Aurora Tent
Known for its spaciousness and durability, this tent is a favorite among outdoor enthusiasts. It's perfect for camping trips, as it comfortably sleeps two and offers excellent protection from the elements.
Ozark Trail Instant Canopy
A bestseller for its portability and ease of setup. Great for providing shade during outdoor activities. Best bang for your buck when it comes to value for the price.
YETI Tundra 45 Cooler
Yeti coolers are among the best in the market. The Tundra 45 is popular due to its excellent insulation capabilities and robust design. It can keep your food and drinks cold for days.
Hydro Flask 32oz Wide Mouth With Straw Lid
The Hydro Flask 32oz Wide Mouth with Straw Lid exemplifies this innovation, balancing practicality, robustness, and sleek aesthetics with remarkable ease. It's the go-to hydration solution for individuals constantly on the move, be it during a work commute or an outdoor excursion.
Traeger Pro 780 Wood Pellet Grill
With the Traeger Pro 780 grill, attaining that phenomenal wood-fired taste becomes a breeze. Its unique Set-It & Forget-It feature, coupled with precise temperature regulation, empowers you to craft memorable culinary delights effortlessly.
Sonos Move Speaker
A top-rated portable speaker due to its water-resistant and drop-resistant features. It delivers surprisingly powerful sound and has approximately 11 hours of battery life.
Chic Leaf Palm Leaf Plates
Chic Leaf Palm Leaf Plates are single-use tableware crafted from naturally shed palm leaves. The plates' full biodegradability and compostability make them an excellent option for environmentally-aware buyers. In addition to their green credentials, these plates exhibit a unique aesthetic charm, offering a refreshing contrast to the mundane, less attractive disposable dinnerware commonly available.
Pit Viper Absolute Freedom Polarized
The Pit Viper Absolute Freedom Polarized sunglasses are a bold and protective eyewear choice for outdoor enthusiasts. They offer excellent eye protection with their polarized lenses, reducing glare and enhancing visibility in bright conditions. The distinctive, colorful design embodies a sense of fun and freedom, while their durable construction ensures they can withstand active outdoor use.
GoSports Classic Cornhole Set
The GoSports Classic Cornhole Set combines the best of old-world charm with contemporary functionality, providing an unparalleled experience for cornhole aficionados, regardless of their proficiency level. This set is more than just a game; it embodies the enduring allure of straightforward, captivating outdoor entertainment.
GCI Outdoor Freestyle Rocker Chair
An outdoor-friendly camping rocking chair that's perfect for your adventures in the wild! With its hassle-free portability and setup, enjoy serene rocking moments on any terrain, anytime, anywhere.