Home »

Father's Day Gift Guide 2023
Father's Day Gift Guide 2023
Kevin O'Shea
September 12, 2023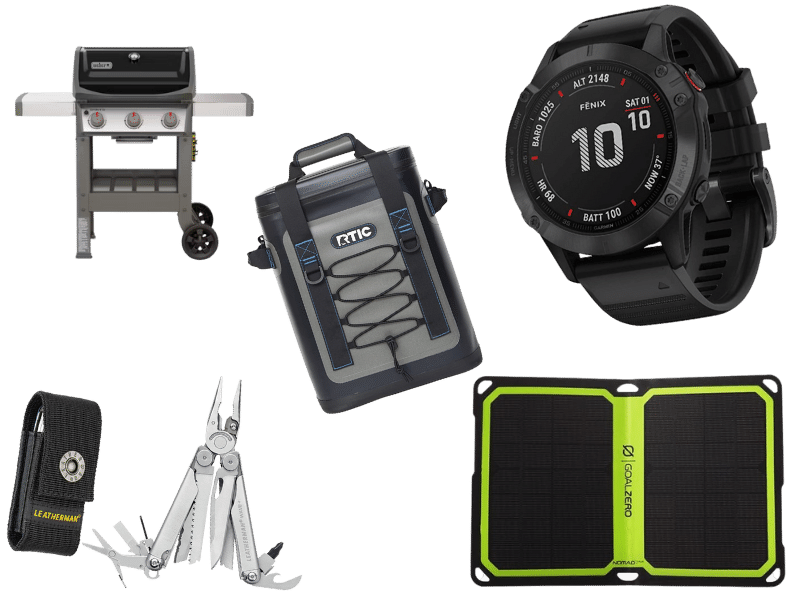 Discover the ultimate Father's Day gift guide for active and outdoors-loving dads. Find the perfect present from our selection of grilling tools, outdoor gear, everyday carry items, and more. Show your husband or Dad your appreciation this year in a way that embraces his adventurous spirit.
Garmin Fenix 6 Pro Multisport GPS Watch
The Fenix series is the perfect outdoor companion, packed with features for hiking, running, biking, swimming, and more. The Pro version also supports music, maps, and Wi-Fi.
Garmin Fenix 6 Pro Review: The Ultimate Multisport GPS Smartwatch Introduction When it comes to top-tier sports smartwatches, the Garmin Fenix 6 Pro sits comfortably at the pinnacle. This comprehensive review of the Garmin Fenix 6 Pro aims to …
Leatherman Wave+ Multitool
This is a handy and durable everyday carry item. It includes 18 tools in one compact design, including pliers, wire cutters, a variety of blades, and a bottle opener.
Leatherman Wave+ Multitool: A Comprehensive Review In the universe of hand-held tools, one name stands out, both for its exceptional quality and sheer utility – Leatherman. Today, we'll delve into a comprehensive review of one of the most popular …
Wazoo Gear Viking Whetstone Pendant
Presenting the Wazoo Viking Whetstone – the epitome of style and utility. Step out confidently, knowing that this unique whetstone necklace elevates your look while simultaneously honing your knives, hooks, or instruments. An indispensable accessory that ensures you never lose your sharp edge.
Wazoo Gear Viking Whetstone Pendant Review Your Essential Tool for Sharp Edges Adventure enthusiasts, campers, and survivalists, in our comprehensive review today, we're focusing on an extraordinary survival accessory that is not just a piece of …
Biolite Campstove 2+
This wood burning stove generates electricity to charge phones and other devices while cooking meals or boiling water. It's a great item for camping trips.
The Revolutionary BioLite CampStove 2+ Are you an avid camper or outdoorsman looking for a way to cook your food and charge all your devices without sacrificing the environment? With the BioLite CampStove 2+, you can do just that! This …
RTIC Backpack Cooler
This cooler is perfect for the adventurous dad who loves to take long hikes or enjoys day trips to the beach. It's portable, durable, and keeps drinks and food cool for a significant amount of time.
RTIC Backpack Cooler: A Detailed Review for the Ultimate Outdoor Companion Introduction In the realm of outdoor excursions and adventures, a top-notch cooler is your best friend. Today, we're bringing you an in-depth review of one such product: …
Weber Spirit II E-310 Gas Grill
For the dad who loves to grill, this is an excellent choice. It's reliable, heats up fast, and delivers excellent grilling results.
Weber Spirit II E-310 Gas Grill Review: A King Among Grills Introduction Today, we dive deep into the world of backyard cooking, bringing you a comprehensive review of the Weber Spirit II E-310 Gas Grill. If you're in the market for a new grill, …
Craft Beer Club Subscription
If he's a fan of craft beer, consider a subscription that delivers a variety of unique brews right to his door.
Beer Drop Review: A Deep Dive into the World of Craft Beers Subscription Services Introduction There's an intriguing trend blossoming in the beverage world today, and it revolves around craft beers. Subscription services are riding high on this …
Darn Tough Hiker Micro Crew Cushion Socks
These socks are a favorite among hikers for their comfort, durability, and lifetime guarantee.
Darn Tough Hiker Micro Crew Sock Review: The Ultimate Hiking Sock Experience Have you ever stopped in the middle of a grueling hike because of blisters forming due to uncomfortable socks? If you've been there, then this review is for you. We're …
Helinox Sunset Chair
This chair is light, comfortable, and portable, perfect for camping trips, beach outings, or even backyard BBQs.
Helinox Sunset Chair Review – Your Perfect Companion For Relaxation Outdoors Introduction Enjoying the beauty of the great outdoors is an experience everyone should have, and nothing makes this more enjoyable than the Helinox Sunset Chair. Today, …
Spyderco Para 3 Lightweight Folding Knife
This is a high-quality everyday carry knife that is durable and reliable for any task.
Spyderco Para 3 Knife Review: A Versatile Cutting Tool for Everyday Use Introduction When it comes to folding knives, the name Spyderco is synonymous with quality, durability, and utility. Among the multitude of offerings from this reputable …
Goal Zero Nomad 7 Plus Solar Panel
For the dad who spends extended time in the outdoors, this portable solar panel can keep his devices charged and ready.
Goal Zero Nomad 7 Plus Solar Panel Review: Harness the Power of the Sun Introduction There's a growing trend towards the use of renewable energy resources, and portable solar panels have emerged as a popular choice for outdoor enthusiasts, …
ThermoPro Digital Meat Thermometer
This thermometer is a must-have for BBQ enthusiasts. It allows him to monitor grill temperature precisely, ensuring perfect cooking results every time.
The ThermoPro TP620 Meat Thermometer is a highly rated, ultra-fast food thermometer that is perfect for grilling.