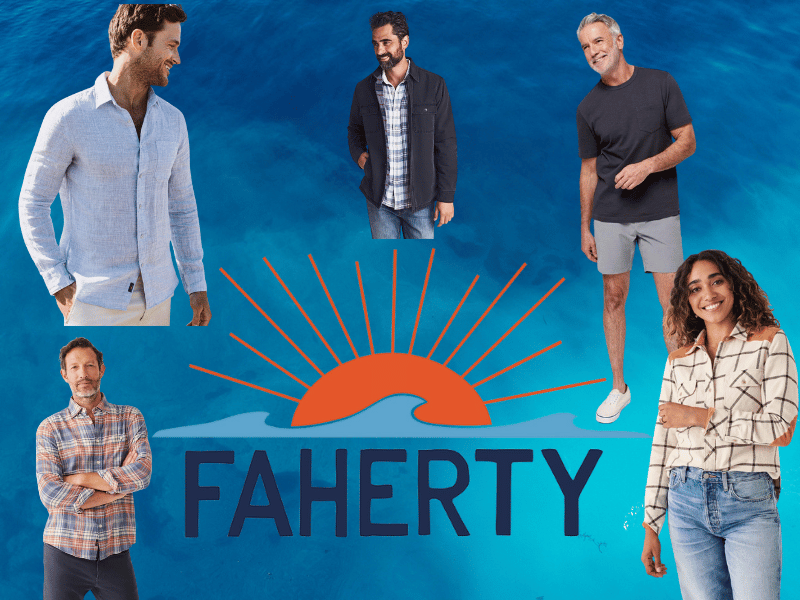 Introduction to Faherty
There's a charm to simplicity, an allure that takes root in the heart of minimalist yet sophisticated fashion. In this world, where style and sustainability intertwine, Faherty takes center stage. As the brand promises the highest quality garments designed with a unique sense of comfort and durability, we set forth on this journey to present a comprehensive Faherty review.
---
The Genesis of Faherty
Faherty – the brainchild of twin brothers Mike and Alex Faherty – started with a simple concept: to create premium, sustainably made clothes that could seamlessly blend into any lifestyle or occasion. Their vision was to cultivate a brand synonymous with comfort, quality, and environmentally-conscious values.
The Quality of Faherty's Apparel
Unmatched Fabric Quality
In the realm of luxury fashion, fabric quality is the game-changer. Faherty's commitment to this is apparent in their selection of premium, long-lasting materials. This devotion to quality enhances not only the product's lifespan but also its comfort, leading to a customer experience unlike any other.
Intricate Attention to Detail
What sets Faherty apart is their attention to detail. From meticulously designed patterns to precision stitching, every feature on a Faherty garment exudes a sense of thoughtfulness and intent.
---
Faherty's Approach to Sustainable Fashion
Sustainability: A Core Value
Perhaps the most striking feature in this Faherty review is the brand's commitment to sustainability. They integrate eco-friendly practices throughout their supply chain, from using organic cotton and recycled materials to ensuring ethical working conditions.
B-Corp Certification: A Testament to their Devotion
Faherty's B-Corp certification further testifies to their commitment to sustainability. As a certified B-Corp, Faherty meets rigorous social and environmental performance standards, ensuring they balance profit and purpose.
---
Faherty Customer Experience
Shopping Experience
From the seamless user interface of their online store to the helpful staff in their physical locations, Faherty's shopping experience is top-tier. The brand's dedication to excellent customer service has proven instrumental in building a loyal customer base.
A Personal Experience with Faherty
I recently purchased a few items from Faherty, and I have to say, I'm extremely impressed with both the quality of their products and their customer service. The clothing I bought, including a couple of their signature flannel shirts and a pair of jeans, is incredibly well-made and comfortable. The attention to detail and craftsmanship is evident in every stitch.
What really stood out to me, though, was the level of customer service I received. When I had a question about sizing, I reached out to their customer support team, and they were prompt and helpful in assisting me. They provided me with detailed measurements and even suggested the right size based on my preferences and body type. It made the online shopping experience much more personalized and enjoyable.
Additionally, I appreciate Faherty's commitment to sustainability. They use eco-friendly materials and production methods, which aligns with my values as a conscious consumer. Overall, my experience with Faherty has been fantastic, and I will definitely be a repeat customer in the future.
Faherty's Price Point
While Faherty's products may command a higher price point, this premium is reflective of the superior quality and sustainable practices the brand adheres to. It's an investment in not just a piece of clothing, but an ethos of conscious consumerism.
---
Best Things to Buy from Faherty
---
How To Save Money on Your Faherty Purchase
Here are some tips and strategies you can use to potentially save money when shopping at Faherty:
Newsletter Sign-Up

Often, brands will offer a one-time discount code for new customers who sign up for their newsletter. This also keeps you in the loop about future sales or promotions.

Seasonal Sales

Many brands have end-of-season sales to clear out inventory. Shopping during these times can lead to significant savings. Keep an eye out for sales during major holidays as well.

Online Coupons and Deals from Seek & Score

Check out our Faherty promo codes page for the latest deals and discounts.

Follow on Social Media

Brands often share special promotions or discount codes on their social media platforms. This could be a good way to catch any limited-time offers.

Free Shipping

Many brands will offer free shipping if your purchase reaches a certain threshold. If you're close to the free shipping limit, it might be more cost-effective to add another item to your cart rather than paying for shipping.

Return Policies

Understanding a brand's return policy can also save you money. If you're not sure about an item, knowing you can return it risk-free can save potential return or exchange costs.

Shop Outlets or Sale Sections

Faherty has a sales section on their website where you can purchase their goods at a lower price point.

Refer a Friend Programs

At the time of writing this Faherty review, they are offering a $50 off coupon for referring your friends.
Remember that these strategies can vary from brand to brand and over time, so always check the specific details for Faherty to see what's currently available.
---
The Final Verdict
Our Faherty review paints a picture of a brand that fuses high-quality materials, intricate detailing, and strong environmental values to create a premium fashion experience. While the prices may be higher than average, Faherty's dedication to sustainability and top-notch customer service make it a worthy investment for the conscious and stylish consumer.
In the world of fast fashion, Faherty stands as a beacon of sustainability and quality. Whether you're a fashion enthusiast or an environmentally conscious consumer, Faherty might just be the brand you didn't know you needed.
---
Faherty FAQs
Is Faherty worth the investment?
In our Faherty review, we found that the brand's commitment to quality, sustainability, and customer service justifies the investment.
How does Faherty ensure sustainability in their production process?
Faherty utilizes organic and recycled materials, implements water-saving dye techniques, and ensures ethical conditions across their supply chain.
What sets Faherty's clothing apart from other brands?
Faherty's unique blend of comfort, durability, quality, and commitment to sustainability sets them apart in the fashion industry.