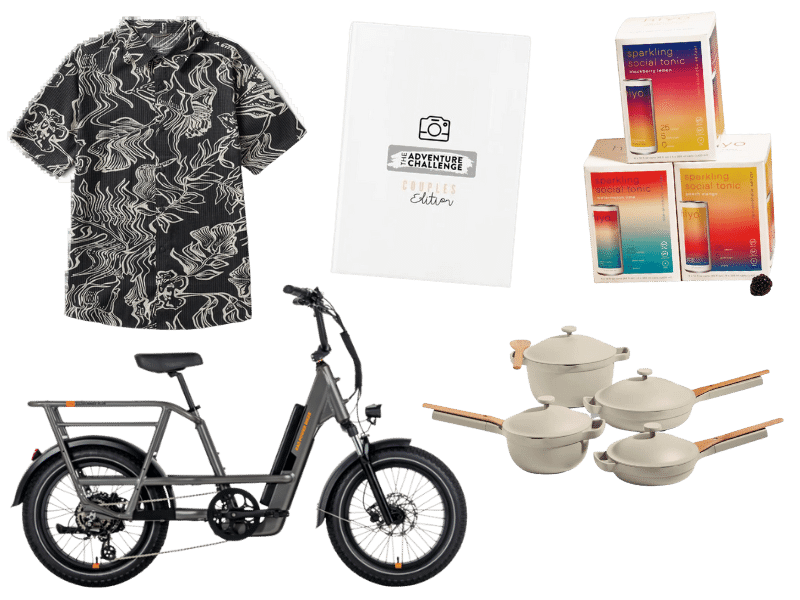 Welcome to the July 2023 gear roundup and Seek & Score, where we highlight the latest and greatest products to enhance your summer adventures. Whether you're seeking outdoor thrills, quality time with your partner, or simply refreshing beverages to sip and savor, we've got you covered with a selection of must-have items.
So gear up, seek new thrills, score amazing memories, and make this summer one for the books.
Rad Power Bikes RadRunner 3 Plus
The Rad Power Bikes RadRunner 3 Plus is the ultimate electric utility bike designed for urban adventurers seeking convenience, versatility, and style. This upgraded version of the popular RadRunner series combines power, performance, and practicality, making it the go-to choice for commuters, weekend explorers, and everyday riders alike.
The Adventure Challenge Couples Edition
The Adventure Challenge Couples Edition is an exciting and interactive way for couples to create unforgettable memories and strengthen their bond. Packed with a collection of surprise date ideas and activities, this unique book encourages couples to step out of their comfort zones and embark on thrilling adventures together.
Our Place Cookware Set
The Our Place Cookware Set is a revolutionary collection of kitchen essentials that combines innovative design, versatility, and sustainability. With a focus on functionality and aesthetics, this thoughtfully crafted cookware set is designed to simplify and elevate your cooking experience.
Oura Ring Gen3
The Oura Ring Gen3 is a cutting-edge wearable device that combines advanced technology with elegant design to revolutionize personal health tracking. This sleek and lightweight ring is not just a fashion statement; it's a powerful tool that provides valuable insights into your sleep patterns, activity levels, and overall well-being.
Roark Bless Up Breathable Stretch Shirt
The Roark Bless Up Breathable Stretch Shirt is a game-changer in the realm of outdoor apparel, offering a perfect blend of style, comfort, and performance. Designed with adventure seekers in mind, this versatile shirt is crafted to keep you cool, dry, and protected during your wildest escapades.
HOKA Kaha Low GTX
The HOKA Kaha Low GTX is the ultimate hiking shoe that combines durability, comfort, and all-weather protection. Designed for adventurers seeking unparalleled performance on rugged terrains, this low-profile version of the popular Kaha model offers a lightweight and agile experience without compromising on support or traction.
hiyo Social Tonics Variety Pack
The hiyo Social Tonics Variety Pack is a delightful collection of refreshing and low-calorie beverages crafted to elevate your social experiences. With a focus on wellness and natural ingredients, this assortment of sparkling tonics offers a healthier alternative to traditional alcoholic and sugary drinks, allowing you to enjoy guilt-free socializing.