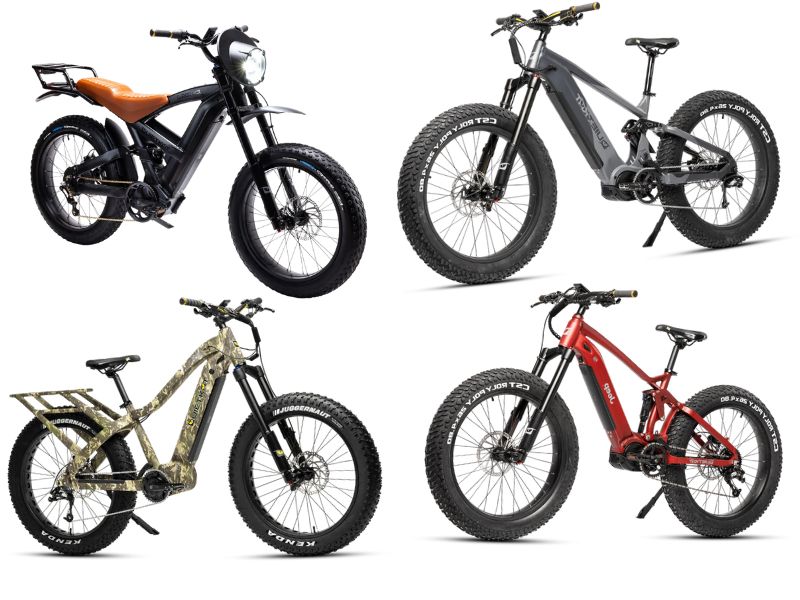 In the world of e-bikes, brand reputation, performance, and product lineup are pivotal. QuietKat, a brand that's been making waves in the market, brings innovation to the forefront. In this in-depth review, we explore what makes QuietKat stand out and why customers are raving about their experiences. We also stack QuietKat bikes against other similar offerings to give you an all-rounded evaluation.
The Company
Why QuietKat? QuietKat is not just about creating electric bikes; it's about revolutionizing outdoor adventures. With a clear focus on marrying the power of electric bikes with the thrill of off-roading, QuietKat promises both adrenaline and efficiency.
Customer Voices: What Do Users Say?
"I took the Lynx e-bike out on the trails, and its performance was mind-blowing. The power, combined with the rugged design, made my off-road journey effortless." – Jamie L.
"Having used multiple e-bikes over the years, I can confidently say the Jeep Electric Bike from QuietKat is a game-changer!" – Alex T.
A Closer Examination of QuietKat Products


A versatile option for riders, the Lynx e-bike boasts impressive adaptability. Whether you're trekking through urban terrains or rugged trails, its 500W hub drive motor ensures you're always ahead.
Tailored for the thrill-seekers, the Ibex promises an unmatched off-road experience. The combination of its sturdy frame and 750/1000W mid-drive makes uphill climbs a breeze.
A collaboration with Jeep, this e-bike embodies adventure. Designed for both smooth terrains and challenging trails, its 750/1000W motor guarantees an exhilarating ride.
The pinnacle of performance, the Apex Pro offers riders unparalleled power with its 1000W/1500W mid-drive. A true testament to what QuietKat stands for: unmatched excellence.
Apex Sport – the sportier sibling of the Apex Pro, this e-bike offers the perfect blend of performance and aesthetics. Its 1000W mid-drive ensures you're always in control, no matter the terrain.
Embodying the spirit of exploration, the Ranger e-bike is ideal for those seeking adventure. With a 750W hub drive motor and robust frame, it promises reliability and performance.
As the name suggests, the Pioneer e-bike is for pioneers, those who lead and explore. Packed with a 500W hub drive, it's an ideal companion for both urban and off-road escapades.
Tailored for the everyday commuter, the Villager offers a seamless blend of comfort and power. Its 500W hub drive ensures smooth sailing on daily rides.
Comparing QuietKat to Some of its Peers
| Feature/Quality | QuietKat | Rad Power Bikes | Lectric eBikes |
| --- | --- | --- | --- |
| Primary Use | Off-road, rugged terrains, hunting, camping. | Versatile; urban commuting, light trail, cargo. | Commuting, travel, versatility with folding design. |
| Motor Power | Typically more powerful for tough terrains. | Suitable for urban and light trail use. | Adequate for city commuting and light trails. |
| Tire Type | Often fat tires for better traction. | Mix of regular and fat tire models. | Fat tires on the popular Lectric XP for better grip. |
| Weight | Typically heavier due to rugged build. | Moderate; designed for versatility. | Moderate; folding design makes it portable. |
| Payload Capacity | Generally high due to robust frames. | High on models like the RadWagon. | Moderate; designed more for urban use and portability. |
| Design Aesthetic | Outdoor/adventure focus, camo options. | Urban/modern with a range of colors. | Sleek and modern with a focus on portability. |
| Price Range | Mid to high, reflecting specialty uses. | Generally affordable to mid-range. | Affordable, often cited for its value proposition. |
| Battery Life | Built for longer rides in remote areas. | Good for daily commuting and trips. | Good for daily commutes; range varies by model. |
| Brand Reputation | Known for off-road durability. | Known for versatility and value for money. | Known for affordability and the folding eBike niche. |
| Additional Features | Some models have integrated pannier racks, etc. | Features like integrated racks, lights, and fenders. | Foldability, integrated lights, and rear rack. |
Final Verdict in Our QuietKat Review
After taking a look at QuietKat, one thing is clear: they are a brand dedicated to excellence. Whether you're an adventure junkie or a daily commuter, there's a QuietKat e-bike tailored for you. As they continue to push the boundaries and innovate, we can only expect even greater things from this dynamic brand.
QuietKat FAQs
What sets QuietKat e-bikes apart from other brands in the market?
QuietKat specializes in off-road electric bikes designed for outdoor adventurers. Their bikes combine rugged construction with powerful motors, ensuring durability and top-notch performance on challenging terrains. Their collaboration with brands like Jeep and their focus on both urban and trail rides make them unique in the e-bike industry.
Are QuietKat e-bikes suitable for daily commuting in urban areas?
Absolutely! While QuietKat is known for its off-road prowess, they offer models tailored for everyday commuters. The Villager and the Pioneer Electric Bike, for instance, are designed with urban terrains in mind, providing smooth and efficient rides for daily commutes.
What kind of motor power can I expect from QuietKat e-bikes?
QuietKat offers a range of motor powers, from 500W hub drives suited for lighter terrains and daily commutes, to powerful 1000W/1500W mid-drives in models like the Apex Pro, perfect for tackling challenging trails and uphill terrains.
How does the Jeep Electric Bike collaboration enhance the QuietKat lineup?
The collaboration with Jeep brings together QuietKat's expertise in electric bike technology and Jeep's legacy in crafting vehicles for rugged terrains. The result is a bike that embodies adventure, designed for both smooth terrains and challenging trails, ensuring an unmatched off-road experience.
Is there a warranty or post-purchase support for QuietKat e-bikes?
QuietKat is committed to customer satisfaction and typically offers warranty coverage for their products. However, specific warranty terms can vary based on the model and purchase location. It's always recommended to check their official website or contact their customer service for detailed information on warranties and post-purchase support.